Attach |

Edit |

Revisions


Related Content
Replacing Campbell Hausfeld CC 2300 Portable Inflator Battery
The Campbell Hausfeld CC 2300 Portable Inflator is my favorite air pump. I own it for the past fifteen years and have used it to pump up everything from balls to kiddy pools to car tires to air mattresses. It have served me well. But recently, the battery inside the unit has gone dead.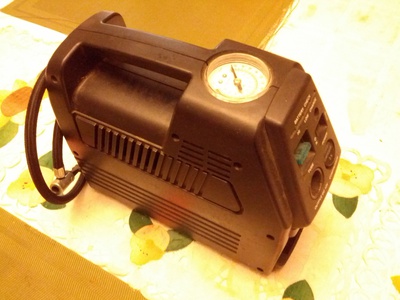 Rather than buying a new one, as it is not an cheap unit (well worth the price if you don't already have one), I decided to disassemble it to replace the battery. I will provide step-by-step instructions in this article.
Disassembly
Disassembly of the Campbell Hausfeld CC 2300 Portable Inflator turns out to be surprisingly easy. It seems the designer have intended the unit to be easily serviceable.
There are seven screw on one side of the unit. They are in recessed holes, therefore, you will need a long Phillips screwdriver to loosen the screws. After unscrewing the unit, simply lift the cover up. The photo below shows the internals of the portable pump. The battery is the black rectangle block at the bottom of the unit.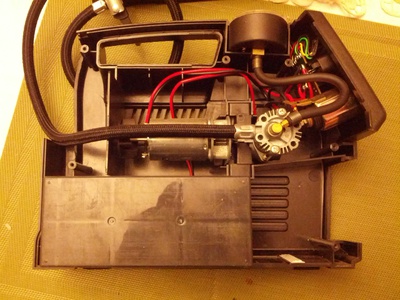 There aren't a lot of slack to pull out battery. But I have noticed that the wire is being constrained as shown in the photo below. If you move the wires out of the slot, you will have a lot more slack to remove the battery.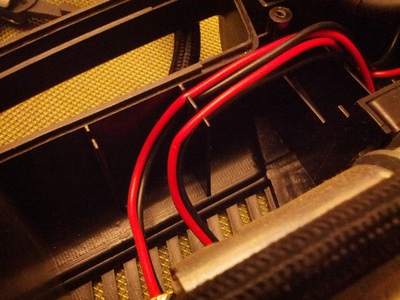 Battery Specification
The internal battery is a rechargeable sealed lead acid (SLA) battery. It supplies 12v 7.2Ah. The model number is "PE12V7.2".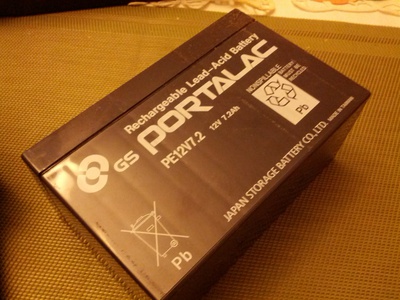 I was able to find a replacement battery on Amazon for less than $20 shipped (see "Related Links" below). The replacement battery is on its way. I will update this article after getting the new battery.
Related Links

Attach |

Edit |

Revisions


Related Content
Attachments