Attach |

Edit |

Revisions


Related Content
Panda Radio Control AC/DC Auto Quick Charger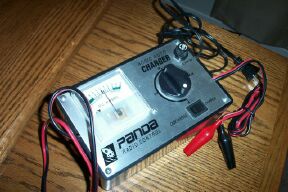 Model 081300
0.75 amp fuse

The charger charges the battery at 5A when the timer is on (non-zero). When the timer is off (at zero), the charger trickle charges the battery at 300 mA.
Tower Hobbies 420 AC/DC 6-7 Cell Charger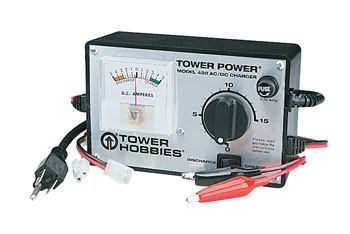 The Panda Radio Control AC/DC Auto Quick Charger looks and seems to be identical to the Tower Hobbies 420 AC/DC 6-7 Cell Charger. The following are Tower Hobbies tech notes on this charger.
This is one of the lowest-priced chargers around. It is an AC/DC charger that is perfect for the entry level setup. It safely fast charges 6- or 7-cell NiCd batteries, then switches automatically to TRICKLE charge. Ampmeter shows charge progress. This charger has a One-Year Warranty.
**This charges at a 5A rate and is NOT recommended for charging**
**NiMH batteries. The charge rate is not adjustable on this model.**
FEATURES:
Safely fast-charges fully drained batteries in 20-40 minutes
Charge/Discharge switch lets the modeler make the appropriate selection
Simple to use: set timer to 15 minutes ... built-in electronic timer automatically switches to TRICKLE when knob is at O (zero).
AC input .8A fuse protected for safety (bus, glass tube type)
INCLUDES:
One 6-7 cell charger w/connector that plugs into a Tamiya battery, AC outlet plug and DC alligator clips all prewired.
One Kyosho battery adapter
One extra fuse

SPECS:    Input Voltage: 110V AC US Standard
                         12V DC
          Length: 6-3/4"
          Width:  4-1/4"
          Height: 2-7/16"

COMMENTS: The instructions are on the box, along with the appropriate charging times.

                         7.2V      8.4V
Charge Times: 1200mAh   19 min.   29 min.
              1500mAh   20 min.   37 min.
              1700mAh   24 min.   41 min.

Related Links

Attach |

Edit |

Revisions


Related Content
Attachments