Attach |
Edit |
Revisions

Related Content
Bornd C170B Bluetooth 3.0 Wireless Mouse Review
Once again, I had more Bluetooth computing devices than I had Bluetooth mice. Tired of re-pairing the Bluetooth mouse I have to a laptop and an Android tablet, I decided it was time to buy another Bluetooth mouse.
After scouring for Bluetooth mice on Amazon, I have picked up the Bornd C170B Bluetooth 3.0 Wireless Mouse off Amazon for a steal. All other buyers have given it excellent reviews. The mouse is small; a mini mouse. It looks elegant and functional. It can use standard batteries. It is symmetrical for both hands. And it's inexpensive (~$13) compared to other Bluetooth mice (see "Related Links" section below). In this article, I will review this mouse in detail.
The package, for the mouse, arrived in a transparent retail package (see photo below). It is also shrink-wrapped, which I think is unnecessary.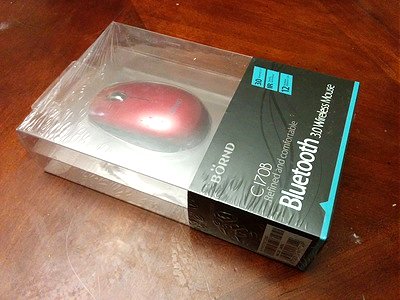 As I attempted to take everything out, I found that the packaging can't be re-used as I tear thought layers of cardboard. But there is really no reason to re-use a mouse package.
The package contains the Bluetooth mouse, AA alkaline battery, and instruction sheet (see photo below). The instruction sheet is not very good. It's English is not understandable. Luckily, setting up the mouse is easy and I do not have to use the instruction sheet at all.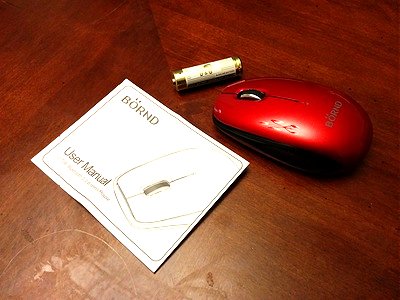 However, two important features needs explanation. And the broken English says the following:
1000-1750 DPI Resolution
Switch Method of DPI: Wheel and right press the mouse key for about 3 seconds simultaneously, you will switch the 1000-1750 DPI in dual.
I had a headache just trying to understand how to switch the resolution. But at least you know that you can switch between 1000 DPI and 1750 DPI. If you haven't figured it out yet, you hold the middle and the right mouse button down for three seconds to switch.
What's not in the instructions is that the mouse defaults to 1000 DPI when you turn it on. If you turn it off at 1750 DPI, it will forget the setting. When you turn it back on, it will be 1000 DPI again.
Intelligent Dormancy/Awakening
This convenient and battery-saving function enables the mouse to enter the dormant state automatically after three minutes' idle time and awaken rapidly after slight movement.
The sleep mode is not too hard to understand. But it is not clear if it will turn completely off after a longer period.
The Bornd C170B Bluetooth 3.0 Wireless Mouse is available in several different colors: Black, Blue, Gray, and Red. I have had enough black mice in my life. The blue mouse doesn't look very good in the online photo. And the gray mouse doesn't distinguish itself sufficiently from the black version. The Bornd C170B mouse has a ladybug look to it (see photo below), so I choose the red version to make it closer to reality. Plus, the red mouse will contrast well with the white notebook computer that I plan to use it with.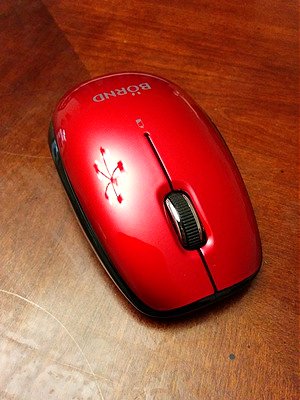 The Bornd C170B Bluetooth 3.0 Wireless Mouse has a class look to it. It has a deep candy-gloss red portrays classiness. As much as I dislike chrome, its chrome scroll wheel trims actually works to my liking. The black ascent is just the right balance to its highlights.
This classy look only pertains to the top of the mouse. When you turn it upside down, as shown in the photo below, you can see the cheap plastic mode. However, this obvious facade doesn't bother me at all, because I only want to play $13 for a mouse. It's sophisticated look on top is a bonus for me. It's bottom is not much of a factor as long as it functions.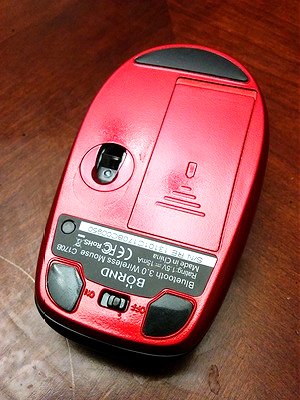 The bottom of the mouse has an on/off switch. I much prefer a manual switch than relying on automatic shut-off. Because, in my experience, wireless mice without on/off switch tends to eat battery when they are "off", forcing me to remove the battery after each use.
There is also a small, black, pairing button. It's not labeled. But luckily I had read in the reviews that there is a pairing button, which is another good criteria. With the pairing button, you don't have to push the mouse button in weird combinations that you can't never remember to initiate pairing. With this button, I do not have to read the instruction at all. Pushing it for a second sets the mouse into pairing mode.
The battery cover is the only drawback on this mouse. It is so flat and flush to the bottom surface that it is actually difficult to slide open. Once you do get it to slide open, you'll find a single AA battery compartment (shown in the photo below).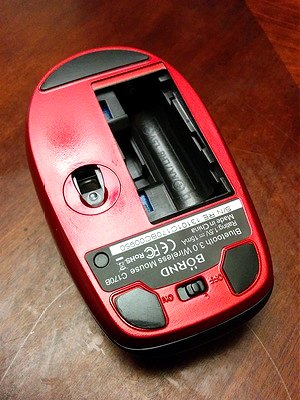 I prefer to use rechargeable batteries with my wireless mouse, while saving the include Alkaline battery for emergency situations. And, fortunately, Bornd C170B Bluetooth 3.0 Wireless Mouse works with the lower battery voltage of the AA NiMH battery.
While a 1.5v alkaline battery fits fine in the battery compartment, my 2200 mAh NiMH battery is too big. I have to push it in there. And, it's so snug, that the negative metal spring could not push the battery forward to make the battery touch the positive metal coil. I have to push the battery forward to make sure it has good contact. But once the contact is made, the mouse works fine.
I also have a much older 1600 mAh NiMH battery. This battery is a little smaller than the 2200 mAh NiMH battery, but still a little bigger than the alkaline battery. I don't know if this battery is too old (gone through too many charging cycles), or if its capacity does not provide enough current to the mouse. But the mouse seems to work and not work sporadically with this battery.
When I first switched the mouse to "on", I did not see a bright red light at the bottom of the wireless mouse. I thought I had received a defective product. But it turned out that the Bornd C170B Bluetooth 3.0 Wireless Mouse was designed with an infrared LED, putting it into the laser mouse category. Wikipedia noted that infrared LED "has significantly increased the resolution of the image taken by the mouse. The laser illumination enables superior surface tracking compared to LED-illuminated optical mice." I had learned about laser mice when I noticed that all my expensive gaming mice uses infrared LED. I really didn't think a $13 Bluetooth wireless mouse would use the same technology, but it does.
Operation wise, this wireless mouse is very smooth. It works on many surfaces without any problem. The mouse button clicks are crisp and firm (not hard). They provide excellent tactile feedback.
The weight also seems just right for a classy, sophisticated mouse. It's not light like many small mobile wireless mouse. Its weight is on-par with many full size mouse, which gives you the feeling that it's going to stay where you let go of it.
Overall, the Bornd C170B Bluetooth 3.0 Wireless Mouse is a high quality wireless mouse at an unbeatable price. Out of the many mouse I've tried, I would say this one is highly under-valued by price. Pick one up right away if you happen to need a small Bluetooth mouse.
Poor Tablet Performance
I have tried this mouse with several Android devices--SmartPhones, tablets, and Nvidia Shield. This mouse performs poorly with them, even though it works just fine with the PC's. When you use it with Android devices, it responds very slowly. When you move the mouse, it takes a few seconds for the pointer to catch up. In a jam, you can use this mouse to control your Android device. But it just doesn't work well with them.
Related Links
Attach |
Edit |
Revisions

Related Content
Attachments