Attach |

Edit |

Revisions


Related Content
What to do with an Android phone that has a dead LCD?
Recently, the LCD on my Motorola Triumph Android phone died. After spending an afternoon contemplating what to do to get my data off it, I realized that it has a HDMI output. I plugged it into my Panasonic 50" plasma HDTV and turned both devices on. And I was presented with the Android locking screen. Surprisingly, even though the LCD had died, the touch input still works; I can still control the Android phone with the dead LCD.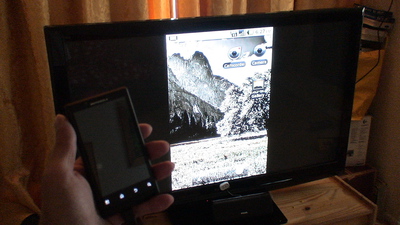 This article gives you some ideas on how to use an Android phone with a dead LCD screen. It assumes that your Android phone has HDMI output and that the touch interface still works. If your phone has neither, you can discuss other possible ideas in our forum.
Resizing the Display
When the Android phone is plugged into the HDMI port of your HDTV, it will display the largest screen size possible. On some televisions, such as mine, it is much bigger than what the TV can display.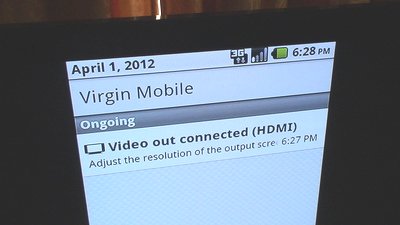 In the notification bar, you will see a display icon once the phone is plugged into the television. Drag down the notification bar and tap the display entry will allow you to adjust the screen size. Use the scroll bar at the bottom of the display app to resize the display to match your TV.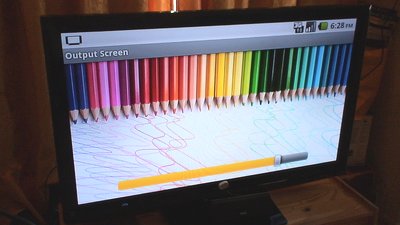 The custom setting lasts for the duration that the phone is on. It also last through sleep mode. However, if you turn the phone off, you'll have to resize the display the next time you turn it on and plug it into the TV.
Possible Uses
At first, an Android phone with a broken screen may not be all that enticing to use. But after some thought, it may not be ready for the trash bin yet. We outline some in this section. If you have ideas, feel free to update this document, or discuss it in our forums.
Terminal
With a Bluetooth keyboard and Bluetooth mouse, you can still be quite productive on an Android phone with an external HDMI display. Using a HDMI-to-DVI adapter, you can turn old monitors and an Android phone into a network computing device (as long as you have 3G or WiFi).
The catch is that Bluetooth keyboard and Bluetooth mouse only works well with Android 3.0 and up. There are some Bluetooth keyboards with special software that works on Android 2.2, but I haven't seen a Bluetooth mouse that works. If you have a different experience, feel free to let us know.
Watch Videos
This is obviously one of the best uses for this situation. Interaction with the phone is minimum while you connect to a TV to watch a movie, a music video, etc.

Attach |

Edit |

Revisions


Related Content
Attachments