Attach |
Edit |
Revisions

Related Content
Makita 18V LXT Power Tools Battery Interface
Makita 18V LXT Battery Pin-Out
The photo below shows the pin-out of a battery adapter that converts Black+Decker 20V MAX battery to Makita 18V LXT power tool. As you can see, there are three major pins.

[photo placeholder]
+ stands for battery positive terminal
TH is most likely a connection to the NTC thermistor temperature sensor for battery safety. NTC stands for Negative Temperature Coefficient.
- standards for battery negative terminal.
Makita 18V LXT Power Tool Pin-Out
Most of the Makita 18V LXT power tool interfaces to the three major pins on the battery. However, certain Makita products, such as the Makita ADP05 18V LXT Lithium-Ion Cordless Power Source only uses the + and - pin. The photo below shows the Makita XRW01 18V LXT Lithium‑Ion Cordless 3/8" / 1/4" Sq. Drive Ratchet interfaces to +, TH, and - terminals on the battery.
That means there is a good chance that the Makita 18V LXT power tool will not operate with the TH terminal covered. So if you want to interface to the Makita 18V LXT power tool with other battery source, you'll have to fake out the TH pin. The question is how?
Inside of a Battery Adapter
To answer the question from the previous section, we purchased a battery adapter that converts Hitachi 18V battery to Makita 18V LXT power tool on Amazon. Then we took it apart to see what's inside.
Inside the adapter, there is a very simple circuit board (see photo below). It consists of one simple resistor that ties the + terminal to the TH terminal.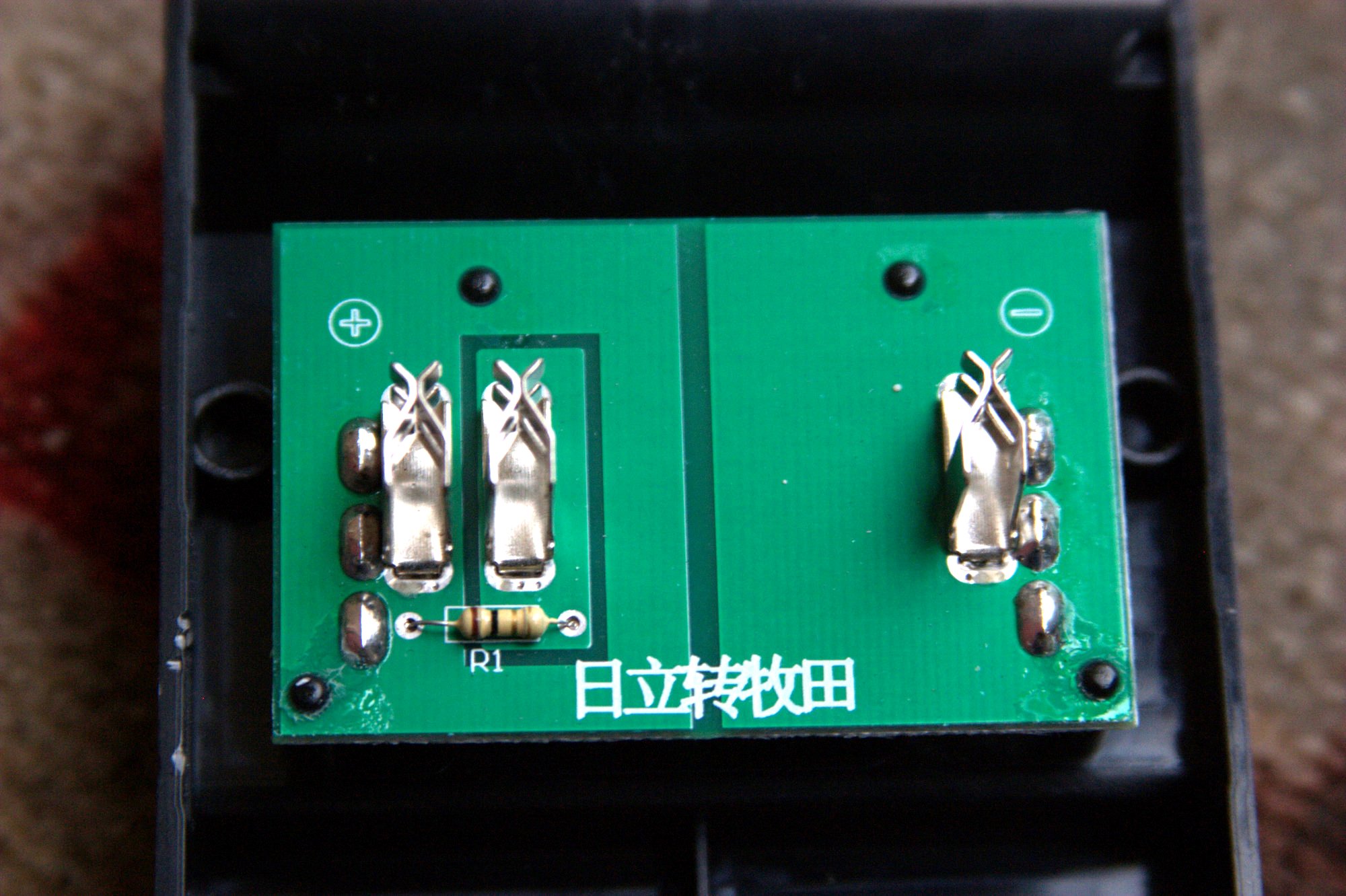 Using the Resistor Color Code Calculator, we determine that the resistor is 1 ohm. Using a digital multimeter, we measured the resistor and found it to be 1.5 ohms.
Attach |
Edit |
Revisions

Related Content
Attachments