Attach |
Edit |
Revisions

Related Content
Netgear Arlo Review: HD Security Camera
The Arlo HD Security Camera VMC3030 looks very futuristic. Its laboratory white body and black face reminds me of characters in recent robot movies, like "I, Robot", "WALL-E", "Big Hero 6", etc. Aesthetically, it's nothing to rave about, but it's definitely a huge improvement compared to traditional, clunky, boxy video camera. Compared to the black dome security cameras of the modern age, the Arlo white/black cameras look more futuristic.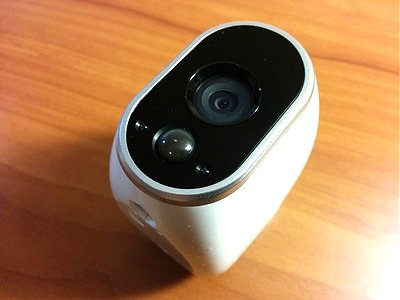 These cameras produce 720P HD quality videos. That could be considered as overkill for video surveillance around your home. But with wireless cameras this small, it makes you wonder if you could use it as an action cam around your home as well. The lens captures 130 degrees field of view, which is on par with many action cams on the market. It is fixed focus from 2 feet to infinity.
Weathering the Elements
Upon receiving the package, my first impression is that these look like typical iPhone, tablet, and other consumer electronic products. The cameras, although hefty, doesn't look like they can stand sunlight or rain.
But as I researched about the product some more on the Arlo support site, I saw this question, "Are Arlo cameras weatherproof?". The answer is "Yes, Arlo cameras are weatherproof. They work in a wide variety of weather conditions, including sun, wind, rain, or snow. Operating temperature is 14° F to 122° F (-10° C to 50° C).".
Now, I feel a lot better. Because I have been concerned about the product failing under the sun. Knowing its weatherproofing capability, I can basically mount it anywhere in the open. I want intruders to see it and use it as a deterrent.
Camera Mount
Arlo cameras come with metallic ball-like magnetic mounts. Using it, you can place the Arlo camera in any position on this half-dome layout. It's an ingenious innovation created by Avaak for its Vue security camera system, which Netgear purchased. Netgear turned the Vue into VueZone, which is similar to the Arlo. But only the magnetic camera mount is reused in the Arlo line.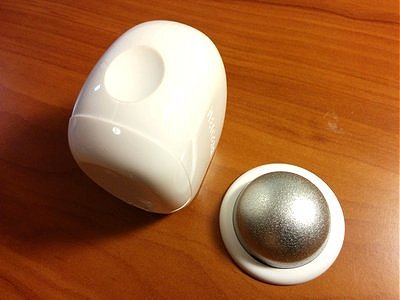 The magnetic camera mount is quite handy for use indoors, because you can quickly and easily pull the camera off for battery change or temporary relocation. The magnet seems strong and firm. A future California earthquake will let me know if it is strong enough.
At first, I thought the magnet is in the ball mount. But in reality, the dome is just metal. The magnet is in the camera. Therefore, it's actually possible to attach the camera to other metal surfaces.
The half dome mount is attached to flat surfaces much the same way as photo frames. You fasten a screw (include) to the wall and hang the dome mount on it (see interface in the photo below). The screw has a #1 Phillips screw head, smaller than the standard #2 driver.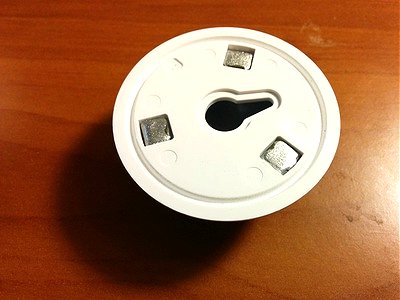 I was a little skeptical of the wall hanging interface. But after fastening the screw to the correct distance, the mount slid on with enough friction to hold it in place. Now I gained the confidence that the dome mount isn't just going to come off with a strong shake.
But if the magnetic mount is too restrictive for you, you can use the tripod screw mount below the camera. Then you can use practically any tripod camera bracket on the market. I'm glad Netgear did not skimp on this feature.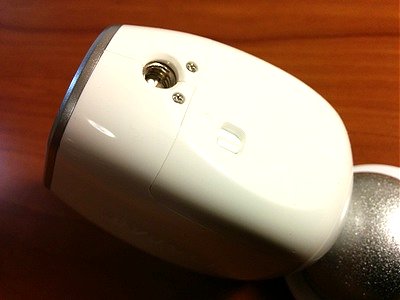 Theoretically, a thief can throw a ball at the magnetically mounted Arlo camera to knock it to the ground. So if you are afraid of someone stealing the Arlo camera, go with a tripod mount. At least, then, the thief would have to use a ladder and unscrew the camera from the mount by hand.
Long Term Observations
After six months, none of the three cameras that I install magnetically has changed position. No one has attempted to vandal or knock the cameras off. A few solicitors has walked up to the front door and has waved at the camera.
Power Source
The Arlo camera is completely wireless. That means they are powered by batteries. The battery compartment is on the bottom of the camera. There is a self locking switch that you push to unlock. Then you slide the cover to open it. The cover is on a hinge, so you won't drop it when replacing the batteries on a ladder. The photo below shows the battery compartment.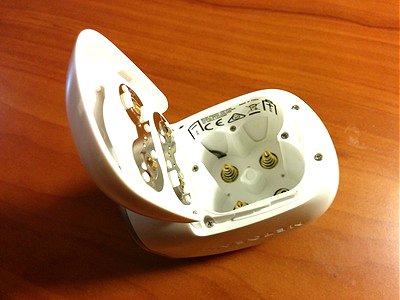 Each Arlo camera is powered by four CR123 batteries. New Energizer alkaline batteries are included in the package. Each batteries supply 3 volts. Four of them provide 12 volts total. The CR123 batteries are necessary to provide a camera package this small. Using eight AA batteries means the Arlo camera has to be bigger.
One of my biggest concerns with electrical gadgets today is whether they work with rechargeable batteries. Fortunately, Netgear Arlo cameras do work with rechargeable batteries. The form-factor for CR123 size batteries are RCR123A and 16340, so look for this size battery with either Li-Ion or LiFePO4. Netgear specifies at least 650 mAh and as much as 2000 mAh. It's unclear why you can't get even higher capacity batteries. Netgear Arlo cameras can handle single battery voltage up to 4.2v.
How Long Does the Batteries Last?
2015-10-20: I installed the Arlo system around April 12th. As of today, two of the three cameras still show full battery (three bars). The Backyard Gate camera, which is used the most, shows two out of three bars of battery remaining. So the standard alkaline batteries in my situation is lasting over six months at this point.
2015-10-22: Just two days after I wrote the last paragraph, I received an e-mail from Arlo, telling me that the Backyard Gate camera is down to 15% battery power. I logged onto the web site and noticed that the camera now shows one out of three bars. I don't know if the battery depletes that quickly between two days or because I haven't paid attention to the battery status until now. A few days later, the batteries in the camera completely died. For your reference, the third camera shot 56 videos in the past week, while the other two cameras shot two to three videos.
2015-10-30: I ordered rechargeable batteries (see photo above) from Amazon. They are 16340 3.7v 2000 mAh Li-ion ones (see "Related Links" below). I charged them up with my Nitecore Intellicharger I4 and installed them into the Backyard Gate camera last night. They powered the camera just fine. I will continue to update this web page as the batteries in the camera depletes.
2015-11-03: Today, I noticed that the Front Door camera shows one bar. This is after the Halloween weekend, where there has been lots of kids that stopped by our house. Arlo captured almost 1 GB of Halloween videos.
2015-11-06: New rechargeable batteries for the Front Door camera arrived yesterday from Amazon. After fully charging them, I installed them tonight.
2015-11-30: I noticed, today, that the Front Walkway camera (still running the Alkaline batteries) did not report activity. I checked the Arlo app and found that it had only one bar left and the apps says, "It's time to change your batteries." At the same time, I noticed that the other two cameras, which were running the rechargeable batteries were showing 2 bars each.
2015-12-07: Arlo sent me an e-mail saying that the Front Door camera is running low (14%). These rechargeable batteries were installed on 11/6. So these rechargeable batteries lasted only one month, whereas the Alkaline batteries lasted six months.
2015-12-10: Arlo sent me an e-mail saying that the Backyard Gate camera is running low (15%). These rechargeable batteries were installed on 10/30. So this set lasted a month and ten days.
2015-12-14: I finally replace the Front Walkway camera battery with rechargeable batteries. I will report how long this set lasts, but it's probably going to be about the same time frame as the other two cameras.
2017-12-17: I've been using rechargeable batteries for the past two years. And they have constantly require changing every month. And the rechargeable batteries don't seem to be protected from over-discharge. Therefore, they die if you leave them in the Arlo camera too long. I would prefer the batteries to last longer than a month, so I don't have to constantly rotate them. I could live with rotating them every month if they don't die. But I have not found any good rechargeable batteries that's up for the task. So I'm switching back to non-rechargeable Lithium batteries (see "Related Links" below).
Night Vision
The Arlo HD Security Cam has build in 850nm infrared (IR) LED's. Its digital sensor is also sensitive to 850nm IR light. When it switches to night vision mode, you can hear an audible click. That's the camera moving the IR filter in and out. During daylight, it moves the IR filter in front of the lens. At night, it moves the IR filter out of the way and turns on the IR LED's. The photo below shows the LED's around the face of the camera.
IR Recording Trick
While the cameras were on being tested on the "bench", my kid grabbed one and slammed it down. That caused the IR filter to slide out of the way. The camera operated in daylight mode at the time, so all the recording are redish/pink. So if you ever want to experiment with IR photography, you can try this trick.
Motion Detection
Unlike traditional security cameras that is always recording video, Arlo HD Security Camera has built in motion detector. When there is no motion, the camera stays in low-power battery conservation mode. Once it detects motion, it wakes up and starts to shoot videos. When used in this manner, Netgear claims that fresh new batteries lasts 4 to 6 months.
You can quickly enable and disable all or parts of the motion using various rule sets (see screen shot below). Arlo software provides the all disable and all enable rules by default. You can easily create custom rule sets.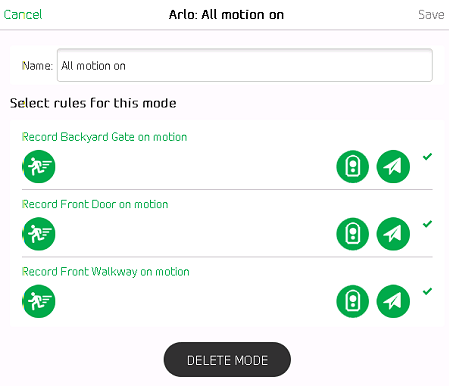 By default, it records 10 seconds of video at a time. You can configure it through software to record between 10 seconds and 2 minutes (see screen shot below). Once Arlo camera detects motion, it starts to record video based on the amount of time you specified. Once the time is up, the Arlo camera stops recording until the next trigger.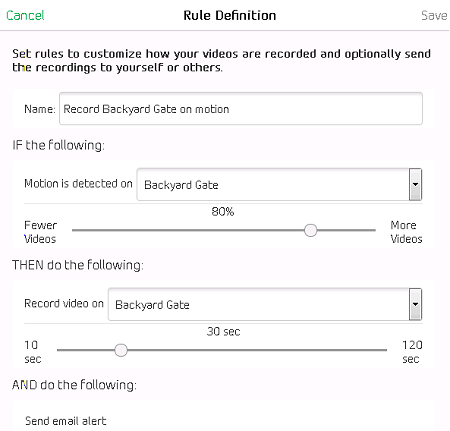 Having to guess how long to record is going to be hit and miss. It means you have to anticipate the kind of crime that is going to occur some time in the future. I wish Arlo provides a mode that allows you to continue to record as long as motion is detected. Then when there is no motion detected, it automatically stops recording.
Arlo interface provides a sensitivity setting. It's ranged from "Fewer Videos" to "More Videos" (see screen shot above). The default is 80%.
Alerts
Once motion is detected and the camera starts recording, Arlo will automatically send you an alert where ever you've installed the Arlo app. My Android tablets and Android SmartPhone automatically vibrates whenever motion is detected. The notification also identifies the camera that detects motion. You can enable or disable the push notification in the Arlo app for the rules of each camera. Yes, that means you can enable alerts for some cameras disable alerts for other cameras.
In this manner, the Netgear Arlo actually acts, not only as a video surveillance system, but as an alarm system as well. Theoretically, where ever you install an Arlo camera, you'll have an motion alarm.
The alerts really come in handy for UPS deliveries. I use to monitor the UPS tracking notice manually to see if a package is delivered to the front porch. Or I have to log in to UPS and sign up for notification. Now I don't have to do either. On the delivery day, if the Arlo app send me a front door motion detected notification, then I'll know that the UPS has delivered. And I can also see whether my wife or someone else has picked up the package off the front porch..
You can also configure e-mail alerts for each camera. The alert shows the camera, time stamp, and snapshot of the video. It also provides a link so you can review the video quickly. Arlo can notify multiple e-mail accounts. However, each e-mail account has to be verified. The e-mail alerts can be turned on and off per camera. With the app notification alerts, I don't seen a need for e-mail alerts. The e-mail alerts could come in handy if you do not want to use the Arlo app.
Arlo does not send out text messages. I suspect many of us would like that feature. If your mobile phone company assigns an e-mail address to your SMS account, then you can use the e-mail alert feature as a work around. But if you have an old-school cellphone with only SMS, but no e-mail access nor Android/iOS, then you are out of luck.
No Audio
Like many video security systems on the market, the Arlo cameras do not capture audio. Even though that's the norm for the market segment of this product, I am disappointed to learn of this missing feature.
Arlo looks so futuristic, advanced, and pleasing compared to industrial grade video surveillance cameras, I just naturally assumed that it could capture audio. Plus, I may want to use it as an action cam around my home. Without the microphone, it cannot serve as an action cam at all.
Related Links
Attach |
Edit |
Revisions

Related Content
Attachments