Attach |
Edit |
Revisions

Related Content
KERUI Home Security System Review: Wireless Remote Control
The KERUI remote control is very similar to a car key FOB. It has a plastic/rubber loop for you to attach it to your key chain. It has a clean, space age look to it. It is also pleasant to use as well.
However, carrying the remote as part of our key chain seems cumbersome when the only time we'd need to use it is to enter and exit the house. No real point of carrying it everywhere. It would be nice to be able to clip it to our car's sun visor like our garage door remote controls. KERUI does not provide a vehicle sun visor clip. But you can get one from EveryThang3D (see "Related Links" below). The following photo shows the remote attached to the visor clip.
Button Controls
The control has four buttons (see photo below). The unlock button disarms the system. The lock button arms the system. The 'S' button arms the "stay" alarm. The bell button is the panic button that triggers the alarm immediately.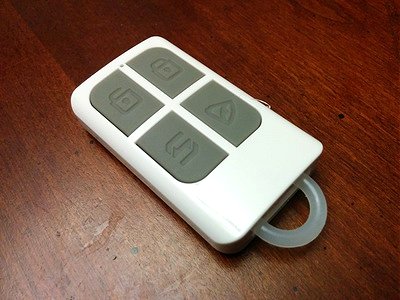 There is a LED at the top of the remote to indicate that you have pressed a button.
Range
We tested the wireless remote out to the sidewalk from our house. The remote control was able to activate the security system from that distance, which fits our purpose nicely.
We keep a remote in each car, just like a garage door opener remote. After closing the garage, we activate the alarm. There is no indicate that the alarm is activated. Therefore, we usually push the alarm activation button three times to be sure.
Power Source
There is a small screw on the back of the remote control (see photo below). To get to the battery inside the remote, remove this screw. The remote case is snapped together. Use your fingernail or a small flat-head screwdriver to pry the shells apart.
You'll find a stack of two 3-volt CR2016 lithium button cell batteries on the back of the remote control circuit board (see photo below). This button cell is relatively common and can be found at your local drug store. You can also order them online on Amazon (see "Related Links" below).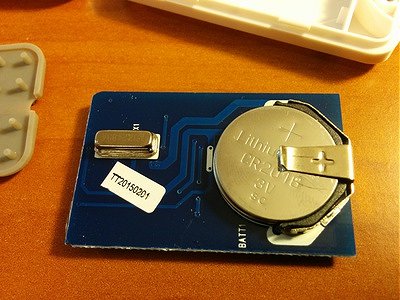 Parts
Parts include a small precision screw, the remote shells, rubber button pad, rubber o-ring, and the circuit board (see photo below).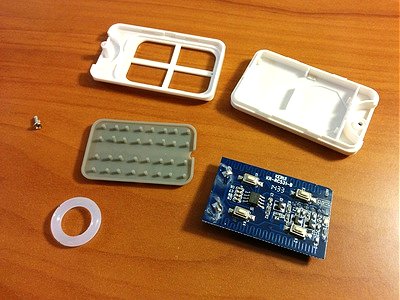 The following photo shows the close-up of the circuit board with the electronic switches.
Related Links
Attach |
Edit |
Revisions

Related Content
Attachments