Attach |

Edit |

Revisions


Related Content
Fixing the Asian Taste Multi-Purpose Electronic Steam Boat Shabu-Shabu
It's winter time and during the winter time, my wife and I always pull out our hot pot. Nothing beats a big hot pot of soup with everything in it when the weather gets cold. For years, we have used our trusty Asian Taste Multi-Purpose Electronic Steam Boat Shabu-Shabu hot bot. But this year it failed (again). Yes, it failed before. The internal thermal fuse is a wear item. So every few years it has to be replaced. I had replaced it once before. So fixing it is no problem.
The problem is that I didn't document the details the last time I did it. As as you can see from the photo below, the thermal fuse and its surrounding parts has corroded to the point that you can no longer read the specs on it. So this time around, I'm going to documented it here.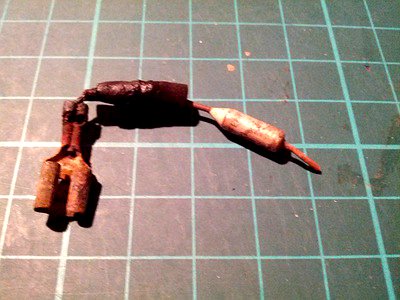 Parts You Need
The last time I fixed the hot pot, I drove out to the local Radio Shack store and bought some thermal fuses. So I did the same thing again this time. They carry three different thermal fuses in the store, but one of them was out of stock. I picked up the remaining two (see photo below).
I got the 264 degree F (129 degree C) and the 430 degree F (226 degree C) thermal fuses. The way thermal fuse work is when they heat up to the threshold, they break the electrical connection. Normally, you should read the specs on the old thermal fuse and get the equivalent one. But in this case, I will use the smaller thermal fuse first and move up as necessary.

Heat Shrink Wrapper
Tools You Need
Cramper Cutter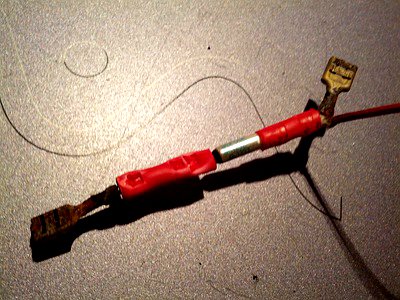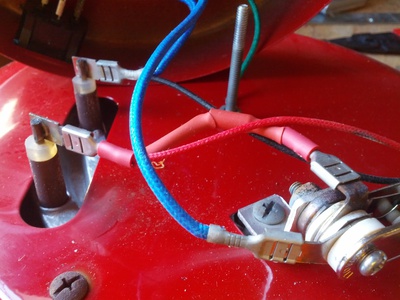 Attach |

Edit |

Revisions


Related Content
Attachments