Attach |
Edit |
Revisions

Related Content
CyberPower 425VA CPS425SL UPS Disassembly
The CyberPower 425VA CPS425SL UPS is an uninterruptible power supply in a power outlet configuration (see photo below). It's pretty convenient to have a UPS and power strip all in one. But like other devices that uses batteries, the internal battery eventually dies. When it does, the CyberPower 425VA CPS425SL UPS beeps continuously to warn you. The only way to stop the beeping is to turn it off. Then you can unplug it and replace the internal battery.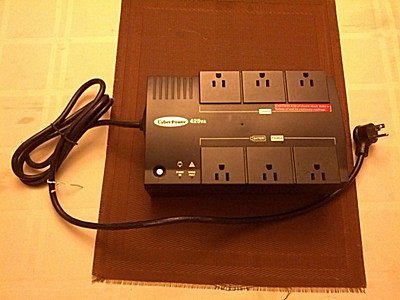 Before we take it apart and replace the battery, let's get familiar with its capabilities. From the label at the bottom of the unit (see photo below), you can see the following specs:
Input: 120V~, 12A, 60Hz
UPS Outlets: 120V~, 425VA, 3.54A, 60Hz, 230W
Total Output Current: 12A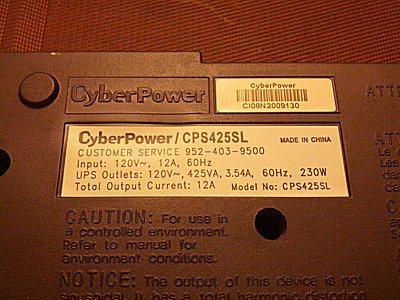 Before disassembly, make sure you unplug the unit from the wall. Taking apart this UPS is easy, if you have the right tool. There are six screws at the bottom of the unit. They are recessed quite deeply (see photo below), so you will need a long slender Phillips screwdriver to unscrew the case.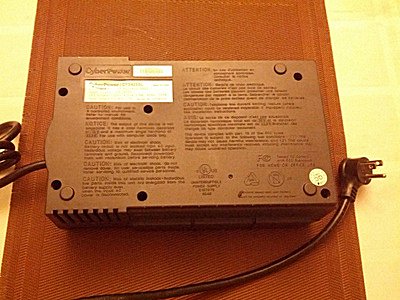 Once the screws are removed, flip the unit back over. Then carefully lift the case up. There are wires attached to both the top and bottom of the plastic case. Therefore, you don't want to yank the top off. Photo below shows the internal of the unit. Be careful that you don't touch any electronics inside. They can still be charged.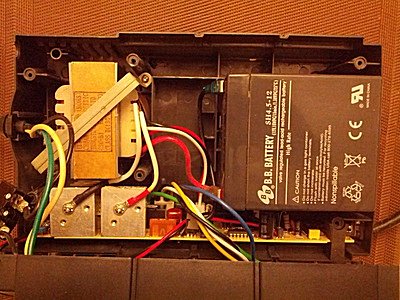 Carefully lift the battery out of the case and unplug the two leads attached to the battery.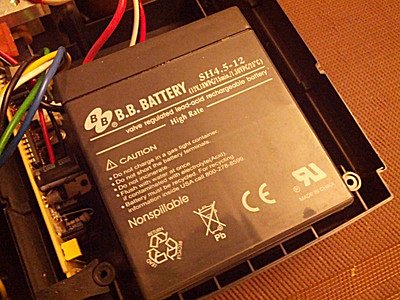 Now all you have to do is to find the right battery replacement.
Related Links
Attach |
Edit |
Revisions

Related Content