Attach |

Edit |

Revisions


Related Content
Build Your Own Stick Battery Holder
Recently, I purchased a LiFe battery stick for my airsoft electronic gun (AEG). There were four LiFe battery packs on the AirSplat web site:
iPower 9.9V 1100mAh LiFe Battery 15C (170mm Long x 15mm Tall x 17mm Wide)
iPower 9.9V 850mAh LiFe Battery 20C (125mm Long x 15mm Tall x 17mm Wide)
iPower 13.2V 1150mAh LiFe Battery 15C (130mm Long x 17mm Round)
iPower 9.9V 1150mAh LiFe Battery 15C (195mm Long x 17mm Round)
I didn't pay attention to their physical sizes and bought the 9.9v with the largest capacity. Unfortunately, the largest capacity also had the longest physical length. The stick battery pack was too long for any of my guns. But all is not lost, because I can still build an external battery holder for the battery pack. In addition, I can use it with my power tools once I have an external battery holder. Like LiPO batteries, the LiFe battery pack has a high discharge current rate that is great for driving power tools. In addition, a stick battery holder hardly costs anything to build. You might already have all the parts at home.
I experimented with the PVC pipes that I have at home. I found that the 3/4" PVC pipe used for home sprinkler system was just the right size to hold a stick battery pack. They were left overs when I fixed my sprinklers. And if you didn't have any handy, they are only a few bucks at Home Depot or Lowes. The photo below showed a standard 3/4" PVC tube.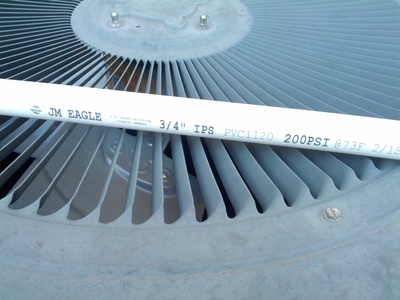 Photo below shows that the LiFe stick battery pack is a perfect fit. You may want to leave the battery connectors out of the battery holder, depending on your application.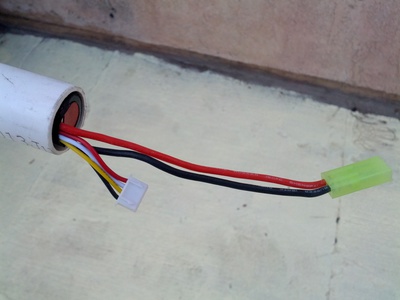 Note that not all PVC pipes are molded in the same way. The photo below shows two different 3/4" PVC pipes. Both pipes has the 3/4" outer dimension. But the inner dimension are different because of the difference in thickness. The thinner PVC pipe is perfect for the stick battery. But the thicker PVC pipe inner dimension is too small to fit a stick battery pack. It's a good idea to bring your stick battery to your local hardware store to get the right PVC pipe.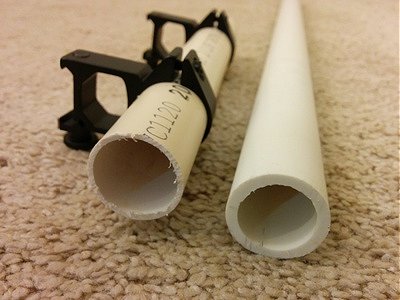 A 1" Picatinny weaver scope ring is perfect fit around the 3/4" PVC pipe (see photo below). That is probably because the internal tube size is 3/4", but the external tube size is 1". The scope ring is about $5 for two; see "Related Links" section below. We will use the scope ring to mount the PVC pipe to an airsoft gun or to our power tools. This scope ring has a quick detach thumbscrew. It makes moving the battery holder from one application to another really easy.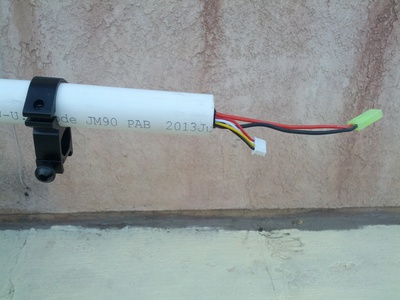 PVC pipe is made out of plastic. They are really easy to cut. All you need is a simple hack saw or a pipe cutter. If you have PVC pipes at home, you probably already have these tools to work with them. The photo below shows the PVC pipe that is cut to length to match the battery pack. Once the PVC pipe has been cut, you can paint it to match your equipment. I'm just going to use it with my power tools, so the color doesn't battery. But I would probably paint it black to match airsoft guns if that is the application.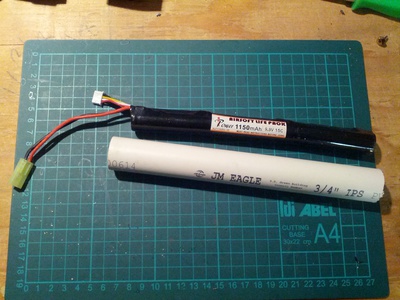 They sell various PVC pipe end caps at the local hardware store you can use. But I just wrap some white sport table at the end to prevent the battery from coming out. The photo below shows white sport tape sealing one end of the tube.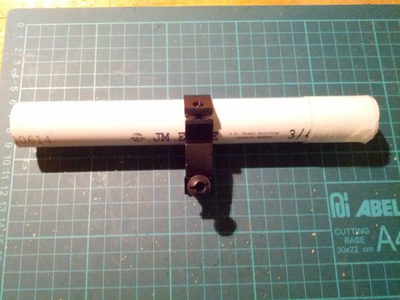 At the other end of the tube, I only sealed the end 1/3" way with the sport tape. With only 1/3" amount of tape, it's no trouble to insert and remove the stick battery, but the battery won't fall out by itself. It's really a simple and cheap solution. You can, of course, get real fancy with end caps. You'll just have to route the wires.
I have found 3/4" PVC caps at Home Depot for about $0.36. It pressure fits onto the end of the PVC pipe, so you can easily put it on and remove it to get the battery out. I have also found a angle elbow adapter that also pressure fits onto the other end of the PVC pipe, so that you can route the wires without cutting holes. The elbow is only $0.76. See photo below of the caps.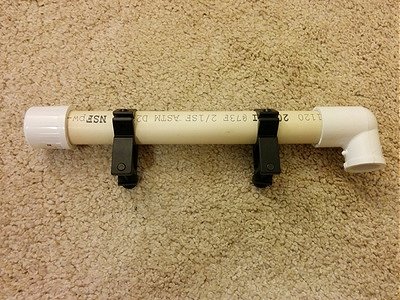 The photo below shows you the battery holder mounted to a cordless drill with scope ring. The cordless drill has been modified with a Tamiya connector. A mini-Tamiya to Tamiya adapter is used to connect the LiFe battery pack to the cordless drill. The quick detach screw on the Picatinny weaver scope ring allows me to move the battery holder from one power tool to another without much fuss.
As you can see, building a stick battery holder is really inexpensive and easy. It's cheaper than buying a PEQ battery box for airsoft guns. So before you shell out your money for a new battery and a new PEQ battery holder, consider getting a stick battery and building the battery box yourself.
Related Links

Attach |

Edit |

Revisions


Related Content
Attachments