Add Comment |
Related Links |
TrackBack

Related Content
charging Rio Carbon on Verizon XV6700 dock
My new Verizon XV6700 camera phone has one nice feature: all of its wired connectivity is done through its USB port. On the bottom of the device is its mini-B USB port. Other than a headphone jack, there is no other wired port. The XV6700 even charges through the USB port, which means that I could charge it using an USB wall charger or through a USB cable connected to my computer. The latter is the most convenient because my computer is always on. And the slick docking station that came with the XV6700 is always connected via the USB cable.
I noticed today that the USB connector on the dock sticks up quite a bit. It's possible to plug my Rio Carbon MP3 player on top of it. The Rio Carbon also charges via the USB port. It worked, except the USB port on the Rio Carbon is reversed relative to the XV6700. So its silver backing faces the user and its LCD couldn't be seen (see photo below). But it charged just fine and the computer could even access the Rio Carbon's mass storage drive.
Attached Image: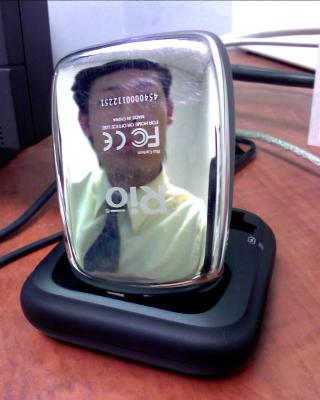 Rio Carbon on Verizon XV6700 Dock.jpg
Chieh Cheng
Tue, 28 Mar 2006 17:54:56 -0800
Add Comment |
Related Links |
TrackBack

Related Content
Did your message disappear? Read the Forums FAQ.
Spam Control | * indicates required field
TrackBack only accepted from WebSite-X Suite web sites. Do not submit TrackBacks from other sites.
Send Ping | TrackBack URL | Spam Control
No TrackBacks yet. TrackBack can be used to link this thread to your weblog, or link your weblog to this thread. In addition, TrackBack can be used as a form of remote commenting. Rather than posting the comment directly on this thread, you can posts it on your own weblog. Then have your weblog sends a TrackBack ping to the TrackBack URL, so that your post would show up here.
Messages, files, and images copyright by respective owners.