Add Comment |
Related Links |
TrackBack

Related Content
Psychedelic Screen
I have a Dell Trinitron flat-screen CRT monitor. It's been working well for several years. But yesterday, when I turn it on, I get a colorful, psychedelic screen, shown in the picture below. Anyone experienced this symptom? Is my monitor failing? I have tried to degauss the screen already, these are the colors that it ends up with after degauss. It's more uniform pink before the degauss.
Attached Image: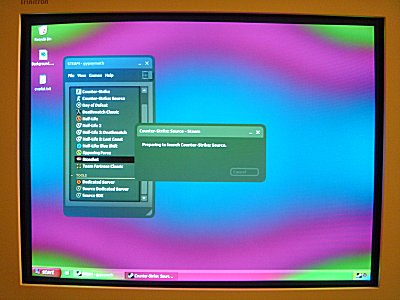 Psychedelic.jpg
Chieh Cheng
Mon, 12 Dec 2005 23:52:35 -0800
I have a similar problem on a very oldfashioned CTX monitor & would welcome help.
David Richards
Fri, 17 Feb 2006 22:16:41 -0800
Add Comment |
Related Links |
TrackBack

Related Content
Did your message disappear? Read the Forums FAQ.
Spam Control | * indicates required field
TrackBack only accepted from WebSite-X Suite web sites. Do not submit TrackBacks from other sites.
Send Ping | TrackBack URL | Spam Control
No TrackBacks yet. TrackBack can be used to link this thread to your weblog, or link your weblog to this thread. In addition, TrackBack can be used as a form of remote commenting. Rather than posting the comment directly on this thread, you can posts it on your own weblog. Then have your weblog sends a TrackBack ping to the TrackBack URL, so that your post would show up here.
Messages, files, and images copyright by respective owners.