Add Comment |
Related Links |
TrackBack

Related Content
My Adventure with the Seagate 5 GB ST1 Drive (FW: 3.08)
Four Seagate 5 GB ST1 Microdrives arrived at my door a few days ago. I had ordered them off eBay, hoping to use them for several potential purposes: 1) primary notebook drives; 2) digital camera storage; and 3) portable storage.
I had several run-ins with Microdrives before. The first one was a IBM 1 GB Microdrive (you can read about this drive on my Camera Hacker web site; see "Related Links" below) that came with my Canon EOS D30 Digital Camera. It worked beautifully to today. Later, I gotten a Rio Carbon MP3 player. I disassembled this player, as documented in my "Hacking Digital Cameras" book, where I found the Seagate 5 GB ST1 Drive. But this drive had always given me trouble outside the Rio Carbon.
This time, I am determined to get it to work with at least one of my goals. The notebook CF adapters that I purchased for this purpose is still in transit. The ST1 Microdrives has already arrived. The following are information on the back of one Microdrive:
SN: 3ME36FYA
P/N: 9AF212-220
Model: ST650211CF
Date: 05304
+5V
FW: 3.08
Chieh Cheng
Fri, 20 Jun 2008 18:16:59 +0000
ST1 with Memory Card Reader/Writers
I have assorted memory card reader/writers from my interest in digital photography. So they are great candidates for me to try with the Seagate 5 GB ST1 Drive. So far, I've tried the following three memory card reader/writers with it and they don't work with the drive! The drive failed to show up in Computer Management's Disk Management under Windows XP.
AFT PRO-Gear 8 in 1 Card Reader/Writer
Memorex Universal Card Reader
Sabrent 52-in-1 All-in-One USB 2.0 Flash Memory Card Reader/Writer
By then, I was quite disappointed that none of these memory card reader/writers could see the drive. So I started digging on the Internet. I found two independent references concerning that the SanDisk ImageMate 12-in-1 Reader/Writer works with the Seagate 5 GB ST1 Drive. That got my hopes up, despite the steep price of the SanDisk ImageMate reader/writer. I went out to Circuit City to pay an arm and a leg for one. It turned out that you can get one cheaper from SanDisk direct. And it's cheaper still from Amazon (see "Related Links" below).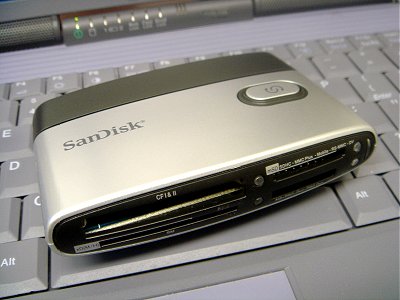 The good news is that the SanDisk ImageMate 12-in-1 Reader/Writer does work with the Seagate 5 GB ST1 Drive on Windows XP! When the disk is raw, it took the ImageMate reader/writer a while to see it. But after formatting it to FAT32, the drive works fine in the reader/writer. A quick format seems to work, but the drive seems flaky. A full format (quick format unchecked) seems to solve that problem. Surprisingly, Disk Management will not let you delete the existing partition or create a new partition. So I am stuck with 5 GB and FAT32.
I then tried the formatted drives on the other memory card reader/writers. They still failed to work with the drive. That's unfortunate, because it meant that the only way to use the drives is to use the SanDisk ImageMate 12-in-1 Reader/Writer. If you had success with other memory card readers, I'd love to hear your success story.
Chieh Cheng
Sat, 21 Jun 2008 00:15:52 +0000
ST1 with Hacked PCMCIA Adapter
A long time ago, when I first gotten the IBM 1GB Microdrive, I needed a way to insert it into the PCMCIA port of my Sony VAIO PCG-505TS Superslim Notebook. The IBM 1GB Microdrive is CompactFlash Type II. There were few CFII to PCMCIA adapters on the market. I couldn't buy one locally. So I modified a "PQI FLASHCARD Compact Flash Adapter" to work. You can read about this modification in my "Modify the CompactFlash Type I PCMCIA Adapter to work with the Microdrive" article (see "Related Links" below).
I plugged the ST1 onto the modified CF-to-PCMCIA adapter (see photo below). Then I plugged it into my Windows notebook. Device Manager showed "PCMCIA IDE/ATAPI Controller". But no drive showed up in Windows Explorer, nor in Disk Management. I was disappointed to get the same result on several different notebooks.
After I formatted the Seagate 5 GB ST1 Drive to FAT32 using the SanDisk ImageMate 12-in-1 Reader/Writer, which I mentioned earlier, I tried the CF-to-PCMCIA adapter again. The result remained the same; no drive.
Chieh Cheng
Sat, 21 Jun 2008 00:33:58 +0000
ST1 with Nexian NXC3100 NexiCam Digital Camera and Compaq iPAQ H3955
I have a Compaq iPAQ H3955 with a Nexian NXC3100 NexiCam Digital Camera attachment. This digital camera attachment features a CF II slot that acts as a memory card reader/writer for the PDA. I've used this digital camera attachment with my assorted CF cards and adapters with great success. Question is, "will this digital camera attachment work with the Seagate 5 GB ST1 Drive?"
I proceeded to check that out by inserting the Seagate Microdrive into the CF II slot of the digital camera attachment while the PDA is on. I could not hear the drive spin up and the PDA became hung. I wanted to remove the Microdrive from the slot. And that's when I realized that the Seagate 5 GB ST1 Drive does not have a removal lip. Once it's slid all the way into the CF II slot, it became very difficult to remove. I ended up resetting the PDA. While the PDA booted, I detached the NexiCam, which gave me plenty of the to remove the Microdrive.
I don't think I'll try this feat again. So far, the ST1 Microdrive seems really limited in its use. I'm still waiting for the CF-to-IDE adapter.
Chieh Cheng
Sun, 22 Jun 2008 06:37:23 +0000
Attached below is Seagate's installation guide for this drive. It include specification and other important information.
Chieh Cheng
Sun, 22 Jun 2008 06:48:27 +0000
"The compactflash devices, -at least those that comply with the original CF specs- have the possibility to function in two modes: memory card and "true ide". In true ide mode, the device becomes 100% compatible with a standard IDE hard drive, down to the electrical connection level. That's why you can buy an inexpensive passive adapter that connects a CF slot on a desktop computer to the IDE, parallel-ATA connector in a desktop PC's motherboard and then boot from any CF storage unit (that supports true-ide mode) seamlessly, whether those are microdrives with compactflash connector or CF flash memory cards. Sandisk CF cards are known to support "true-IDE" mode, and in the microdrive market, Hitachi units do as well." - Seagate makes waves in microdrive market
That excerpt came out of the "Seagate makes waves in microdrive market" article (see "Related Links" below). Based the last sentence in the excerpt, it could be inferred that the SanDisk ImageMate 12-in-1 Reader/Writer supports True IDE mode, and that's why it worked with the Seagate 5 GB ST1 Drive. This excerpt is also very encouraging, because it means that the CF-to-IDE adapter I ordered should work.
In addition, I have read, at several places, that the Seagate 5GB ST1 Drive will work with the Sony DSC-F828 digital camera. (See "Seagate ST1 5GB CompactFlash Type II Card" and "DEAL: 4GB CF Microdrive for $79 !!" in "Related Links" below.) Now I am really tempted to buy the Sony DSC-F828. But so far, it might just be unconfirmed rumor; no first hand experience has came forth. I wonder what other digital cameras work with the Seagate 5GB ST1 Drive.
Chieh Cheng
Sun, 22 Jun 2008 08:08:14 +0000
Out of the four Microdrives I received, one of them will not format. At the end of the formatting sequence, Windows XP keeps reporting "Invalid media or Track 0 bad - disk unusable." Through the recommendation of several online users, I downloaded the "VAIOSoft Recovery Manager". I used this software to perform a full format. The software completely erased the drive. After a long process, the format succeeded, which I was really happy with.
Looking at the drive in Windows Explorer, I noticed that "VAIOSoft Recovery Manager" repartition the drive to 2 GB and formatted it to FAT (2 GB is the largest FAT partition possible). That's a pleasant surprise, because I've been trying to do that in order to test the Seagate 5 GB ST1 Drive with my FAT devices.
Computer Management shows two partitions on the drive. The first one is obviously the 2 GB FAT partition. The second 2.69 GB partition is unallocated. Unfortunately Computer Management still does not let me create or delete partitions. So it looks like this Microdrive will stay 2 GB FAT until I find an utility to repartition it and format it to something else.
My Canon EOS D30 digital camera still doesn't work with this Microdrive, even though it has now been formatted to FAT. I believe the True IDE mode is still in play.
Chieh Cheng
Sun, 22 Jun 2008 10:13:50 +0000
I found the ST1 Series Product Manual today. Includes the complete specs for the ST650211CF, ST650211FX, ST625211CF, and the ST625211FX. The product manual is attached below.
Chieh Cheng
Fri, 27 Jun 2008 00:56:11 +0000
ST1 with the CF-to-Notebook-IDE Adapter
I received the CF-IDE adapter several days ago. It came with an extra pin, which I had to bend away to get it to plug into the the notebook. The ST1 slides onto the CF-IDE adapter quite easily. Unfortunately, the ST1 drive does not show up in the BIOS on my Sony VAIO PCG-748 notebook. Even after specifying a custom hard drive with Cylinders, Heads, and Sectors specified to 9690, 16, and 63 respectively, the BIOS still doesn't see the drive. Neither does any of the operating system boot CD's.
I tried it on my HP Pavilion dv1227us notebook and the same symptom occurs. The only difference? The dv1227us's BIOS has a hard drive diagnostic test program. The low-level test program sees the hard drive alright and is able to successfully perform the basic diagnostic test on it.
Chieh Cheng
Thu, 03 Jul 2008 21:07:39 +0000
ST1 in a Desktop Computer
Now I'm finally getting some where!
When I ordered the CF-IDE adapter, I also ordered a notebook hard drive to desktop IDE adapter. So I decided to try the Seagate 5GB ST1 Drive on my desktop computer (see photo below). Surprisingly, the ECS RS400-A motherboard BIOS actually recognized the Seagate ST1. The ST650211CF model number shows up on the BIOS page with the correct geometry. Unfortunately, Windows still claims that no hard drive can be found.
So, I tried FreeDOS (see "Related Links" below). At first, the FreeDOS installation does not recognize the hard drive either. So I booted up the live CD and used fdisk on it. I partitioned the drive using both FAT16 and FAT32. FreeDOS is then able to recognize the drive. After formatting the drive with the /s switch, I rebooted the computer.
When the computer tries to boot off the Seagate 5GB ST1 Drive, it displays a short line of garbage. If I press ENTER, the computer reports "DISK BOOT FAILURE, INSERT SYSTEM DISK AND PRESS ENTER". Ack! But if I boot up in FreeDOS live CD, then I can see and play with the drive just fine. All of the data remains intact. Perhaps FreeDOS loads a special removable storage driver.
So far, I haven't been able to boot off the drive, but I can boot off a FreeDOS live CD and use the hard drive in that manner. That means my notebook has to have a CD-ROM drive. It's not necessary a bad work around for a full-fledge notebook, but I have several super-slim notebooks without CD drives. I'll have to keep trying, but the situation is getting better.
Chieh Cheng
Sun, 06 Jul 2008 09:39:37 +0000
Great work with the ST1. I'm also having difficulties using it as a regular CF card. Mine is also FW 3.04. I might just send it to Seagate and ask them to give me a real CF card.
taylor
Fri, 23 Jan 2009 22:00:19 +0000
I recently bought a batch of the ST625211CF drives (Seagate ST1 Drive - 2,5 GB).
My first surprise was that it is actually a type-II CF crad, which means it is the fat 5mm card type and not the more common Type-I card (3.3 mm). Well this is my fault though as users who owned microdrives before probably already know that these are the fat Type-II standard and will NOT fit in Type-I CF slots (like my IBM PC110 uses it).
The next surprise was the problems discusses above - nearly no reader or slot "Likes" the card, the controller however is recognized but the drive wont start spinning.
What i think the cause is, would be Surprise # 3 - The ST1 does require 5 Volts to operate (Just turn it around, its printed on the back), NOT 3.3 Volts like about all modern CF cards use. Its a miracle that this clever Sandisk all-in-one reader actually powers it up with the correct 5 Volts, however, 90% of all other devices will not be able to power on the HDD. Nice idea behind the drive, but due to the mentioned problems it's "beyond usable" in my eyes. Thank god CF prices dropped a lot during the past years, so there are other interesting options; I'd recommend to just buy a "normal" CF card type-I for max compatibility.
Stefan
Thu, 05 Feb 2009 15:20:53 +0000
I already want try these microdrives ST625211CF to build a small linux pc. Does anyone have effort to get these drives to work driven by 5 Volts or not?
Hendrik
Fri, 17 Apr 2009 17:50:25 +0000
Hi
I have a small ST1 2.5GB Card using on a older Pentium 1 233Mhz System.
My CF-IDE adapter has an extra Power Connector (one of these FDD Connectors) and so the Bios is founding the ST1. My Adapter is set to 5V.
My PCMCIA Adapter is not working with this card. The other doubleside Adapter has no jumper for 5V :-( but the Bios is founding the ST1 :-)
The ST1 connected via USB-ATA Adapter is still working on my notebook when i am connect an 5V Powersupply to the Adapter...
Next test is booting from that card with Dos 6.22 :-)
Nice Page! Thanks for the informations.
Greetings from Germany!
Daniel
Daniel AKA Hitower
Tue, 05 May 2009 10:51:27 +0000
That's very interesting that you got your ST1 to work. If you don't mind supplying a photo of the card and the adapter, it would help us out greatly.
Chieh Cheng
Tue, 05 May 2009 23:41:56 +0000
I found a card reader on eBay that will read my Seagate ST1 5 GB
PNY Technologies # p-cf-usb-m2-ng Flash Card Reader for $5.00
I have also used this Seagate ST1 5 GB Microdrive as a laptop hard drive using the CF-2.5 IDE Adapter (also found on eBay). Works great for a hard drive except that I can only run Linux or Windows 98 for an Operating system. Windows XP will not boot off of it because it still reconizes it as a removeable storage device.
I read about a way to Multi-boot with Linux and Windows XP, letting Linux boot the system rather than XP. But I have not gotten it to boot correctly yet.
http://www.buildtheperfectpc.com
Janean
Sat, 30 May 2009 00:22:33 +0000
Interesting, so it might just be XP's boot loader.
I am booting Linux with my Hitachi 4 GB CF too (Trixbox based on CentOS), don't remember if I tried XP or not.
If lilo or grub boots, you should be able to load XP.
gnowk
Mon, 01 Jun 2009 00:05:50 +0000
wow i am not liking what im hearing i have a 6gb micro seagate pocketdrive and it will not show up in any comp i have or in dos or with card reader or nothing drive spins led works...seagate sucks the 5v aspect is a shamble what were they thinking???i never even got to use the drive one time as i see it seagate owes me my money back...lawsuit seagte? i think they might be tasting one if they continue to make such lame products!
josh snyder
Sun, 04 Oct 2009 04:21:04 +0000
got windows to boot off of it without using linux.
the default windows driver for microdrives doesn't recognize them as fixed disks. windows would install fine, but as soon as you reboot the system, it won't come up.
the trick is to update the microdrives driver with one that recognizes them as fixed disks. this has to be done right after windows finish installing, but before you reboot.
the driver to use is here:
http://www.xpefiles.com/files/xpfildrvr1224_320.zip
1) extract the files from the archive (only cfadisk.sys and cfadisk.inf are needed)
2) modify cfadisk.inf to include the hardware ID for your particular microdrive, see step 11 of the following. ignore the portions in the step that doesn't have to do with editing cfadisk.inf.
http://www.boot-land.net/forums/index.php?showtopic=5397&pid . . .
3) update the driver for the microdrive per step 12
the instructions are written for USB sticks, so use the microdrive whenever they say USB stick.
gnowk
Wed, 14 Oct 2009 18:18:15 +0000
I have a I/O Magic Gigabank 6Gb which uses a Seagate 6Gb ST1 Drive. My Gigabank stopped working for unknown reasons. When I try to plug the unit into a USB port, nothing happens. The drive used to automatically be recognized and simply initiate "Autoplay" or at least show up under "My Computer" as a drive named Gigabank. I knew that the drive inside of the unit had to been perfectly fine and in working order because I know for fact the unit never had any abuse such as shock damage, there were no scratches what-so-ever on the shell of the unit, and the USB plug looks perfectly operational.
I can not figure out what is wrong with the unit. So, I gutted the whole thing. Peeled off the top brushed aluminum plate (Yes, I know this would void any possible warranty, but since I can not find them in any store any longer and it has been beyond my extended warranty period that I optionally purchased I figured this was the only way to at least try to obtain my valuable data back.) I went to Radio Shack today and picked up a card reader drive. The card reader I picked up is made by a company I have not particularly heard of yet it supported all of the different memory cards that I already own so I thought it might be nice, if it works.
The brand is Digital Concepts and is a 51-in-1 Card Reader/Writer. It works through USB 2.0 port, and is compatible with CF, SD, SDHC, MS, XD, Micro SD, & Sim Card. The item or model number I have here is CR-75-P and says that it is made by Sakar International Inc. or www.sakar.com as listed on the back for warranty details. I thought the Sim Card functionality was an interesting addition to a memory card reader/writer.
In any case, I thought that my memory card was too thick as it seemed to be at first. Oh, my memory card I am referring to is the Seagate 6Gb ST1 Drive.
Here are the specs for this drive:
Model: ST660211CF
Date: 06201
Otherwise it looks exactly like the one pictured on this page that has already been posted.
One last attempt to see if I was simply not inserting the card correctly allowed me to fit the drive into the reader. "Whew!" I thought. The fit was very tight, not to the point of damaging the drive but to the point that the drive did not seem to even go into the slot. I thought I was going to have to try taking the casing off of the reader just to try and plug it in. I think I may have simply had the drive held upside down. Anyways...
Guess what? It works flawlessly on Windows Vista Ultimate Edition. No drivers needed for any of the card slots so far tested have been the Micro SD, SD, and CF. Have not yet tried the Sim Card but I believe it requires the included software to be installed in order to access a Sim Cards data for manipulation.
In any case, I hope this helps someone out there looking for confirmation of a card reader that works with the Seagate ST1 drives.
Kevin
Tue, 05 Jan 2010 03:05:35 +0000
Hey, thanks for the tip, Kevin. I wonder if Windows Vista and Windows 7 have built-in drivers for these devices of if your Digital Concepts CR-75-P card reader is savior. Time for me to take out my ST1's and try them with the new operating system.
Chieh Cheng
Tue, 05 Jan 2010 07:49:29 +0000
Did you ever hack the 3.08 firmware on the 5GB drive?
bill
Wed, 22 Dec 2010 18:53:03 +0000
Interesting article! I wouldn't mind betting that some adapters are rejecting the card after reading it's power usage data - cards are required by the C.F. spec to use only 100mA to start with, but the ST1 reports that it need 330mA to spin, so adapters not able to supply that would block it. It should work with 3.3v or 5v supplies, according to the Seagate documents though.
Jimbo
Tue, 03 Apr 2012 14:37:59 +0400
Add Comment |
Related Links |
TrackBack

Related Content
Did your message disappear? Read the Forums FAQ.
TrackBack only accepted from WebSite-X Suite web sites. Do not submit TrackBacks from other sites.
Send Ping | TrackBack URL | Spam Control
Title: Seagate 5 GB ST1 Drive in PCMCIA
Weblog: GearHack
Excerpt: I took the Seagate 5GB ST1 Microdrive out of a Rio Carbon and inserted it into the PCMCIA slot on my Windows XP notebook, but the drive does not show up in "My Computer". So I looked at the Device Manager and it shows the "PCMCIA IDE/ATAPI Controller" driver, but no driver for the disk drive itself. . . .
Tracked: Sat, 21 Jun 2008 00:38:19 +0000
Title: CompactFlash slot on HP and Compaq iPAQ
Weblog: GearHack
Excerpt: I have a Compaq iPAQ 3955 Pocket PC personal data assistant (PDA). It it probably one of the nicer PDA's. I never had a real problem with it . . . until I dropped it on the ground, which screwed up the pins in the SD Card slot. I've fixed it since then, but it still flakes out at time. Worst of all, . . .
Tracked: Sun, 22 Jun 2008 06:31:39 +0000
Title: Chapter 26: Removing the Microdrive from the Rio Carbon 5GB MP3 Player
Weblog: Camera Hacker
Excerpt: In my "Hacking Digital Cameras" book, I showed you how to disassemble the Rio Carbon MP3 player to retrieve the Seagate 5 GB ST1 Drive. However, I've also explained that I couldn't get this drive to work on any of the digital cameras that I have on hand. But potentially it could be used on a newer g . . .
Tracked: Sun, 22 Jun 2008 08:18:02 +0000
Title: compact flash vs microdrive
Weblog: GearHack
Excerpt: After all my experiments, I believe that the Hitachi 4GB and 5GB MIcrodrives being locked into True IDE mode is not a real factor. I believe that the firmware has changed so that plug-and-play ID doesn't represent a "mass storage device". That's why nothing would recognize them, other than the devic . . .
Tracked: Mon, 05 Jan 2009 19:08:55 +0000
Spam Control | * indicates required field
Messages, files, and images copyright by respective owners.