Add Comment |
Related Links |
TrackBack

Related Content
Minecraft Server Runs on a Netbook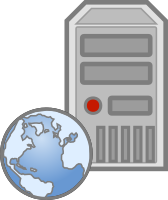 I have one of the very original netbooks with the very first Intel Atom N270 processor. I now use it as a Windows server that runs 24/7. It would be nice to be able to serve multiplayer Minecraft server on it as well, so that I don't have to dedicate another computer as a server. So I have tried Minecraft server on the netbook.
The good news is that the netbook is powerful enough to serve Minecraft. I am able to play survival mode and creative mode. The bad news is that you can only serve the game for one players. A second player would cause the server to crash after a few minutes. Probably due to the 2 GB RAM I have installed.
Even though it can't serve multiplayer, it's still quite useful as a single player server. With a server, I can now tab out of the game in the client without putting the game on pause. And I can keep the server running 24/7, allowing my family member to log on at will, without running another server.
It's fast enough for almost all in-game purposes. But riding in a minecart lags.
Fido
Wed, 10 Dec 2014 00:32:40 +0300
Add Comment |
Related Links |
TrackBack

Related Content
Did your message disappear? Read the Forums FAQ.
TrackBack only accepted from WebSite-X Suite web sites. Do not submit TrackBacks from other sites.
Send Ping | TrackBack URL | Spam Control
Title: Optimizing Minecraft on a Notebook Computer
Weblog: GearHack
Excerpt: I had reported that "Minecraft Server Runs on a Netbook". But my first generation netbook supported a maximum 2 GB or RAM. That meant I can only allocate 1 GB to Minecraft. I had since then moved the Minecraft server onto a more capable notebook computer. It's the HP Pavilion Entertainment Notebook . . .
Tracked: Sat, 31 Jan 2015 21:59:41 +0300
Spam Control | * indicates required field
Messages, files, and images copyright by respective owners.