Add Comment |
Related Links |
TrackBack

Related Content
Fixing the Michael Graves Wireless Optical Mouse
I've been using the Michael Graves Wireless Optical Mouse for a while. It works well with no hick-ups. So when I got a second one, I expected it to just work. And it did work straight out of the box. But a few days later, it just stopped working. No light on the bottom of the mouse. No amount of button pushing ever brought it back to life.
I left it in my desk drawer for a while. And finally decided to do an autopsy on it and see if I could revive the dead mouse.
It took me a while to figure out how to disassemble the mouse. Even though the bottom plastic case is somewhat transparent, I couldn't seen any screw mounts or clips. It turned out that the there are three screws. They are under the plastic feet for sliding on the mouse pad (see photo below). The plastic feet pads are dual layers, so you definitely need a thin knife to peel them off; you'll need to re-use them.
Attached Image: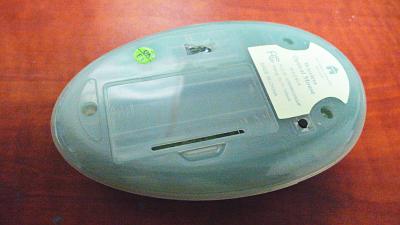 Three screws on the bottom of the Michael Graves mouse.jpg
Chieh Cheng
Fri, 06 Apr 2007 13:18:28 -0700
After unscrewing the three screws, the top cover comes right off as shown in the photo below. It's not readily apparent where the mouse is defective. But the rule of thumb is to look at all of the contact pins first.
Attached Image: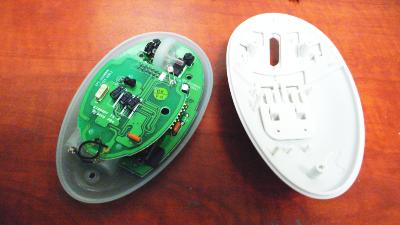 The top plastic cover comes right off the mouse after removing the screws.jpg
Chieh Cheng
Fri, 06 Apr 2007 13:21:54 -0700
The problem becomes obvious when you look at the wires. One of the wire is completely detached as shown in the photo below. Usually all electronic problems traces down to a loose connection somewhere. This time it is simply a mis-soldered joint. Simply re-soldering the wire revived the mouse.
If you don't have any soldering experience, pick up a copy of "Hacking Digital Cameras". It has a full chapter on picking the right soldering equipment and the right way to solder.
Attached Image: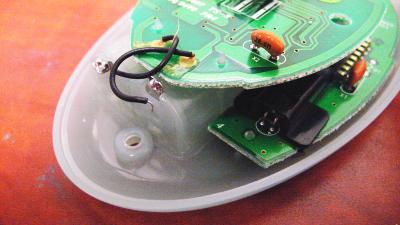 Most electronic problems can be traced to a lose contact.jpg
Chieh Cheng
Fri, 06 Apr 2007 13:27:25 -0700
I have 2 computers running on my desk and was woundering if you can run two to these Wireless Mouses within a few feet of each other.
Victor nichols
Wed, 13 May 2009 18:08:03 +0000
Yes, they are associated to their base station with different ID's.
Chieh Cheng
Thu, 14 May 2009 06:23:09 +0000
Add Comment |
Related Links |
TrackBack

Related Content
Did your message disappear? Read the Forums FAQ.
Spam Control | * indicates required field
TrackBack only accepted from WebSite-X Suite web sites. Do not submit TrackBacks from other sites.
Send Ping | TrackBack URL | Spam Control
No TrackBacks yet. TrackBack can be used to link this thread to your weblog, or link your weblog to this thread. In addition, TrackBack can be used as a form of remote commenting. Rather than posting the comment directly on this thread, you can posts it on your own weblog. Then have your weblog sends a TrackBack ping to the TrackBack URL, so that your post would show up here.
Messages, files, and images copyright by respective owners.