Attach |
Edit |
Revisions

Related Content
Bornd C100 Bluetooth 3.0 Wireless Mouse Review
Previously, I had raved about the Bornd C170B Bluetooth 3.0 Wireless Mouse in the Bornd C170B Bluetooth 3.0 Wireless Mouse Review. In fact, my son loved the mouse so much, he asked for it. So I swapped mice with him. Not long after, he left his computer equipment on the floor, despite my nagging. Someone stepped on the mouse, crushing the internal button severely. So I looked for another Bluetooth mouse.
I noticed, on Amazon, that the Bornd C100 Bluetooth 3.0 Wireless Mouse looks very similar to the Bornd C170B. And it's the same price as the Bornd C170B. I thought I'd give it a try. The mouse was small; a mini mouse. It looked elegant and functional. It had built-in rechargeable battery. It is symmetrical for both hands. And it's inexpensive (~$13) compared to other Bluetooth mice (see "Related Links" section below). In this article, I will review this mouse in detail.
The package, for the mouse, arrived in a transparent retail package (see photo below). It is also shrink-wrapped, which I think is unnecessary.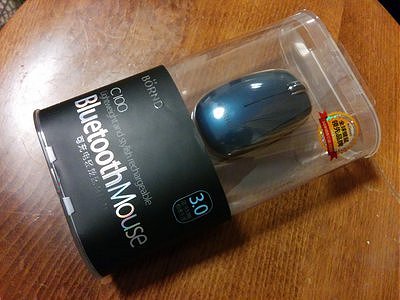 As I attempted to take everything out, I found that the packaging can't be re-used as I tear thought layers of cardboard. But there is really no reason to re-use a mouse package.
The package contains the Bluetooth mouse, the retractable charging cord, the black pouch, and instruction sheet (see photo below). The instruction sheet is not very good. It's English is not understandable. Luckily, setting up the mouse is easy and I do not have to use the instruction sheet at all.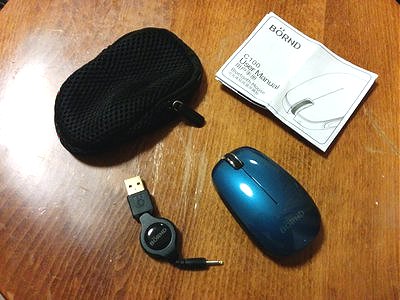 The mouse is capable of switching between 1000 and 2000 DPI. To switch, you hold down the scroll wheel button and the right mouse button for three seconds.
The Bornd C170B Bluetooth 3.0 Wireless Mouse is available in several different colors: blue, white, brown, and pink. My son want to try the blue version, so that's what I have ordered.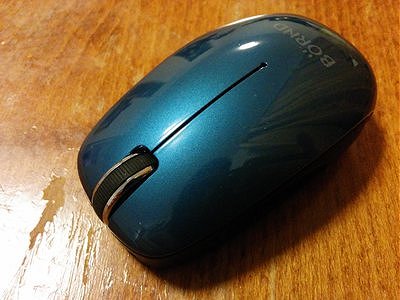 The Bornd C170B Bluetooth 3.0 Wireless Mouse has a classy look to it. It has a deep candy-gloss red portrays classiness. As much as I dislike chrome, its chrome scroll wheel trims actually works to my liking. But the side and back of the mouse is black plastic, which cheapens the effect somewhat.
This classy look only pertains to the top of the mouse. When you turn it upside down, as shown in the photo below, you can see the cheap plastic mode. However, this obvious facade doesn't bother me at all, because I only want to play $13 for a mouse. It's sophisticated look on top is a bonus for me. It's bottom is not much of a factor as long as the mouse functions.
The bottom of the mouse has an on/off switch. I much prefer a manual switch than relying on automatic shut-off. Because, in my experience, wireless mice without on/off switch tends to eat battery when they are "off", forcing me to remove the battery after each use.
There is also a small, black, pairing button. It's not labeled. But it's pretty clear that it's a pairing button. With the dedicated pairing button, you don't have to push the mouse button in weird combinations, which you can't ever remember, to initiate pairing. With this button, I do not have to read the instruction at all. Pushing it for a second sets the mouse into pairing mode.
There are LED lights in the back of the mouse that light up. It seems that when you turn the mouse on, it will flash the red LED to the left for a few seconds. When you plug it into charge, it will light up the blue LED on the right. After charge is complete, the blue LED will shut off.
The Bornd C100 Bluetooth 3.0 Wireless Mouse was designed with an infrared LED to track movement, putting it into the laser mouse category. Wikipedia noted that infrared LED "has significantly increased the resolution of the image taken by the mouse. The laser illumination enables superior surface tracking compared to LED-illuminated optical mice." I had learned about laser mice when I noticed that all my expensive gaming mice uses infrared LED. I really didn't think a $13 Bluetooth wireless mouse would use the same technology, but it does.
The weight is relative light, which is great for carrying around as you travel. Seems to be on-par with the weight of other mobile mice.
Performance
The mouse seems to perform just fine when it stay connected. The problem is that I can't get it to stay connected on two of my laptops. On the Asus G46vw, it would connect for a few minutes, then all of a sudden, it would stop and reconnect. On the Lenovo Y50, it would continue to connect and reconnect, so you can't use it for more than a few seconds at a time.
This mouse is basically unusable. Therefore, we are returning it.
Disassembly
I was curious about the battery that is inside the mouse. I was hoping it would be AAA NiMH batteries that I can eventually replace. So I took it apart to take a look.
There are three screws, one under each of the sliding pads (see photo below).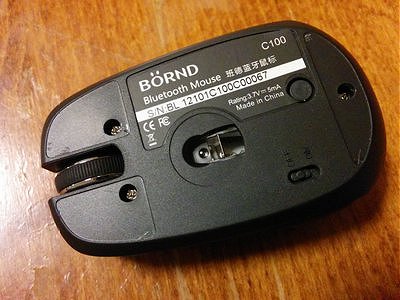 After removing the top cover, you'll see that it is a 3.7V 500 mAh lithium battery.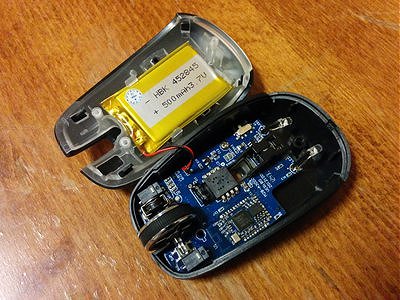 Related Links
Attach |
Edit |
Revisions

Related Content