Add Comment |

Related Links |

TrackBack


Related Content
Clash of Clans: First Strike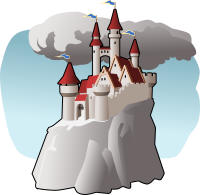 Having a shield gives you some time to relax. It lets you upgrade and build things while your base is under protection. Depends on how badly your base was damaged before, your shield lasts different length of time. The game will notify you half an hour before the shield runs out. But it will not notify you as it run out.
I find it more gainful to attack an opponent right before the shield runs out than to wait for the shield to run out to attack someone. You gain more trophies this way.
In many cases, I'll get the half hours notification, but decide to wait for the shield to run out. Then I end up forgetting to check the clock. By the time I get back to my phone to check, the time has run out and I've already gotten attacked. That usually means I lost some trophies, while gaining a new shield. But I lost my chance to attack and gain some trophies.
Instead, I now attack (losing the shield in the process), right after getting the notification. That way, I gain some trophies, prior to being attacked by someone else.
Fido
Wed, 19 Aug 2015 04:46:25 +0400

Add Comment |

Related Links |

TrackBack


Related Content
Did your message disappear? Read the Forums FAQ.
Spam Control | * indicates required field
TrackBack only accepted from WebSite-X Suite web sites. Do not submit TrackBacks from other sites.
Send Ping | TrackBack URL | Spam Control
No TrackBacks yet. TrackBack can be used to link this thread to your weblog, or link your weblog to this thread. In addition, TrackBack can be used as a form of remote commenting. Rather than posting the comment directly on this thread, you can posts it on your own weblog. Then have your weblog sends a TrackBack ping to the TrackBack URL, so that your post would show up here.
Messages, files, and images copyright by respective owners.