Add Comment |
Related Links |
TrackBack

Related Content
Minecraft Server Minimum Requirements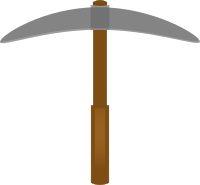 Quite a few month back, I reported that I was able to get Minecraft server to run on a AMD Turion(tm) II Ultra Dual-Core Mobile M620 (2.5 GHz) processer and 4 GB of RAM laptop computer (see "Optimizing Minecraft on a Notebook Computer ". Since then, my two kids had taken their world much further and created a more sophisticated environment. Recently, the Minecraft server crashes out every few minutes while they play.
So today, I ran the Minecraft server on my Asus G74SX-BBK7, which has an Intel Core i7-2630QM 2GHz CPU and 16 GM RAM. The server worked perfectly without any problems. The server reports average tick of around 24 ms.
This is my primary computer, so I don't plan to continue to run the Minecraft server on this computer. But it provides a good baseline information on what server hardware works with a Minecraft world for two players.
Fido
Sat, 09 May 2015 23:37:22 +0400
Found a solution. I ended up running the Minecraft server on my daughter's Lenovo Y50-70 notebook computer. It's got a Intel i7-4700HQ 2.4 GHz CPU, 8 GB of RAM, and NVIDIA GeForce GTX 860M Graphics (2GB). Running the Minecraft server in the background on that notebook computer, my two kids and I are able to play Minecraft without any problems.
Fido
Mon, 18 May 2015 00:11:51 +0400
Add Comment |
Related Links |
TrackBack

Related Content
Did your message disappear? Read the Forums FAQ.
Spam Control | * indicates required field
TrackBack only accepted from WebSite-X Suite web sites. Do not submit TrackBacks from other sites.
Send Ping | TrackBack URL | Spam Control
No TrackBacks yet. TrackBack can be used to link this thread to your weblog, or link your weblog to this thread. In addition, TrackBack can be used as a form of remote commenting. Rather than posting the comment directly on this thread, you can posts it on your own weblog. Then have your weblog sends a TrackBack ping to the TrackBack URL, so that your post would show up here.
Messages, files, and images copyright by respective owners.