Add Comment |

Related Links |

TrackBack


Related Content
Canon BCI-6Y and BCI-3eY ink tanks are exactly the same!
My Canon S820 inkjet photo printer ran out of the yellow ink lately. This is a really nice printer with Canon Think Tank System that has six separate ink tanks: black, photo cyan, photo magenta, cyan, magenta, and yellow. The yellow ink tank model number is BCI-6Y. However, I just can't find this ink tank at any of the local stores.
While setting up the Canon PIXMA iP3000 Photo Printer for my wife, I noticed that the yellow BCI-3eY ink tank is very similar to the BCI-6Y ink tank for the S820. Upon comparison, they turned out to be exactly the same. From the top, the only difference is the label. One says BCI-6Y while the other says BCI-3eY (see picture below).
Attached Image: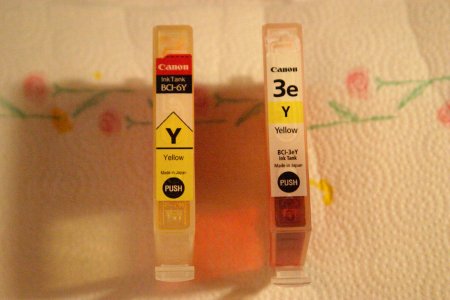 CRW_9409.jpg
Chieh Cheng
Sat, 25 Jun 2005 00:35:04 -0700
From the side, the two cartridges look identical physically (see picture below). The color of the ink looks a bit different, but it could be that the newer, full cartridge just has a higher concentration of the yellow ink. It's common for brand new cartridge to appear to contain different color ink than specified on the label. The BCI-3eY ink cartridge on the right is a perfect example. It's obviously a yellow ink cartridge, but the ink looks orangish-red in color.
Attached Image: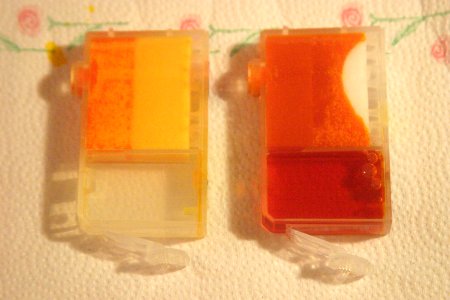 CRW_9410.jpg
Chieh Cheng
Sat, 25 Jun 2005 00:38:31 -0700
Desperate for the yellow ink tank, I plugged the BCI-3eY into my Canon S820 photo printer and it click right into place. The printer accepts it as well after I closed the printer cover. I was able to print a few test sheets and the printer seems to be working just fine. I just hope the color is exactly the same as the BCI-6Y ink tank; I don't want colors in my pictures to be slightly off.
Has anyone else tried this same trick?
Chieh Cheng
Sat, 25 Jun 2005 00:42:01 -0700
The BCI-3eY package listed the following as compatible printers; Canon S820 is not on the list:
i550
i850
S400 / S450 series
S500 series
S600 series
BJC-3000 series
BJC-6000 series
MultiPASS C755
MultiPASS F30 / F50 / F60 / F80
MultiPASS MP700 / MP730
FAX-C855
Chieh Cheng
Sat, 25 Jun 2005 00:46:39 -0700
I did manage to find Canon BCI-6 series and BCI-3e series ink cartridges yesterday at the local Best Buy store. It turned out that the BCI-6 ink cartridges are actually fifty cents cheaper than the BCI-3e ink cartridges. The label on the BCI-6 ink cartridges shows the following compatibility list:
PIXMA iP3000 / iP4000 / iP4000R / iP5000 / iP6000D / iP8500
PIXMA MP750 / MP780
i560 series
i860 series
i900D series
i950 series
i960 series
i9100
i9900
S800 series
S900
S9000
BJC-8200
Because the iP3000 and the S820 both showed up on this list, I believe the BCI-6 series and BCI-3e series of ink color and cartridge are exactly the same and interchangeable. This applies to the magenta, cyan, and yellow ink cartridges.
The incompatible ink cartridges between the two series include the black, photo magenta, and photo cyan. The reason is because that the BCI-3eBK black ink cartridge is thicker than the BCI-6BK black ink cartridge. And the BCI-6PM photo magenta and BCI-6PC photo cyan ink cartridges are not used on ink jet printers that uses the BCI-3e series of ink cartridges.
Chieh Cheng
Sat, 17 Sep 2005 18:27:19 -0700
Thanks for the info! This situation was facing me too but we had bought a 3e package of cartridge (Office Max brand) that had the BCI-3eBK we needed but the salesperson couldn't tell us whether the 3ey, and the other two that came with the package were compatible with the 6y. Your note made me much more comfortable in opening the package and finding that these seem to be compatible cartridges (we only needed the BCI3eBK now but it looks like the others 3e 15ml size are the same as the 6 series). Thanks again for the post!
MikeK
Sun, 27 Nov 2005 11:55:08 -0800
I'm trying to track down accurate information myself, but the only explanation I can think of so far is that the 3e series is Pigment based and 6 series is dye based. My speculation is that although you may be able to use dye-based inks in pigment-based printers, using pigment-based inks in a dye-based printer may clog the print head. I have also read that high-end models of some printers are designed to take both (dye- and pigment- based inks have different color and longevity characteristics, and high-end users may want to be able to use either depending on purpose.)
I know that I was having all kinds of print quality issues with a canon i900D that I received second-hand, and noted that the previous owner had been using 3e-series inks. The streaks and banding cleared up right away as soon as I replaced the 3e Magenta and Cyan with their 6 counterparts. (I even replaced the original 3e Magenta with a brand-new 3e Magenta that the previous owner provided with the printer to no effect.) Make of that what you will.
Chase
Tue, 04 Sep 2007 14:40:34 +0000
Canon tend to use the same type of ink across their cartridges, (i know this from recharging cartridges we use the same type of OEM ink for all their cartridges,) so i don't believe pigment based ink is going to be a problem for you the diffrence however will be the flow of ink, this is controlled by a small labarinth hidden under the label of the cartridge. so a higher flowing cartridge will probably have little to know effect as the ink will be held back at the nozzle, however a lower flowing ink will not be able to keep up the flow to the print head hence the streeks and banding in the i900D.
scott
Fri, 05 Oct 2007 04:22:20 +0000
123inkjets sent me a 3e this time instead of the 6. It didn't work on my pixma ip5000 but they said it was just a defective cartridge and are resending the same thing. There's no moving parts so I wonder what was defective.
Robin
Sun, 06 Jan 2008 00:36:07 +0000
I am interested in understanding how does it not work. Is there no ink on the page when you print? Or does the printer actually says bad cartridge? Or does the printer do something else altogether?
Chieh Cheng
Sun, 06 Jan 2008 02:43:19 +0000
when I print a test page with 4 color bars the yellow comes out white - no color. When I run the maintanance align print heads get failed message and 11 amber blinks code - alignment failed. When looking at old and new cartridge side by side I can't see any difference.
anonymous
Sun, 06 Jan 2008 08:44:19 +0000
Hmmm. Very interesting. I could see no mechanical difference between the two cartridges either. I hope it's not your print head that has failed.
Chieh Cheng
Mon, 07 Jan 2008 20:26:17 +0000
For those who speculate on Ink types - I would like to add one comment - My Pixma iP3000 works perfect with both cartriges the 6 and the 3e.
Until recently the 3e genuine Canon cartrige packages were marked iP3000 compatible. As far as I remember those were always the cartriges offered to me at Office Depot, where I bought the printer as well.
Last month I went there to buy a new set of cartriges and surprise! according to the vendor I should buy 6 series cartriges for the Magenta Yellow and Cyan which are 5 ILS (about 1.30 US$) more expensive then then 3e. The Black cartrige remained 3e.
I suspected these were not the ones I bought on the last time but followed the vendor recommendation and manufacturer instructions.
At Home I opened up the printer and found out I was right - the old cartriges were indeed 3e.

One interestig fact - the iP3000 printer head is marked as follow: Black 3e, Magenta, Cyan and Yellow - 6.


Hillel Magnes
Wed, 09 Jan 2008 20:18:50 +0000
Got my free replacement 3eY from 123inkjets. Working well.
Robin
Sat, 12 Jan 2008 20:08:38 +0000
So does anyone know what Canon has to say about this? I have a pixma 4000 and am afraid to use the bci6's and 3e's interchangeably until I know for sure it won't mess up my printer.
Wanda Norris
Mon, 18 Feb 2008 00:47:27 +0000
I have an i860 in my office which calls for the 6 cartridge. I recently discovered that our office supply person mistakenly bought the 3e Y, M an C. Can't find the receipt to return them and it has been too long anyway. I have considered trying them in the i860, as they look identical to the 6. Can I mess up anything by trying?
Dave
Fri, 22 Feb 2008 16:51:01 +0000
I was nervous when I bought the 3e colour catridges even though my PIXMA ip3000 is not listed in their 'compatibility list'. When I was about to change my cartridges lo and behold my old ones were 3e cartridges. So far they worked fine for me, only that whenever I refill they drive me nuts because I had to do the whole maintenance thing until I get the right colour. A tip though, right after refill do a bit of maintenance like 'Nozzle Check' and whatever cleaning. Then turn off your printer for a few minutes or hours if you like and then turn it back on. It will print fine. Well it works for me and so far I do not face much problems.
Aredhel Winter
Sun, 06 Apr 2008 08:38:53 +0000
I accidentally purchased the 3e instead of the 6...the blacks come out the same, but the other colors are "off" when it comes to printing photos. Way too much magenta and cyan. D'oh!!
John
Fri, 07 Nov 2008 04:18:33 +0000
Can anyone assist with this... I have two printers Canon i560 and ip4000 which use interchangeable ink cartidges that I refill nicely; i560 uses (pigmented) black 3e for text and dye based cyan 6, magenta 6 and yellow 6 for photos. It makes black for photos by printing cynan magenta and yellow all on the same dot; ip4000 has Black 3e for text and cyan 6, magenta 6, yellow 6 and black 6 for photo printing.
Today I was given an old Canon i850 which appears to be the same technology as i560.
The i850 has no ink cartridges and I want to use my stock of spare refilled cartridges from the other two printers to run the i850.
Canon specs for i850 call for black, cyan, magenta and yellow, all 3e.
I have read that dye based nbr 6 cartridges for cyan magenta and yellow will work ok in printers where 3e (pigmented ?) is specified for those three colours.
Does anyone have any positive experience running Nbr 6's in i850 ?
Thanks, --- Hal
Hal Lewis
Sun, 15 Mar 2009 02:22:52 +0000
I have a Canon S600 printer and I've been buying Canon replacement cartridges from Costco for years -- it uses the BCI-3eC, M, Y, and K tanks. They were packed with one tank each of CMY, and two tanks of K. Some months back Costco stopped selling that package and started selling ONE package containing the BCI-6 tanks in C, M, and Y, and 2 tanks of BCI-3e in black. I've been trying to research the difference and found this website -- I've always thought the tanks themselves look identical. But it does sound like some people are having different "color" results -- I would tend to think that the inks are actually identical though, as well as the tanks themselves, at least for this series. Why would Canon MIX the inks if they were different from each other and sell them in ONE package??? If the inks didn't work, Canon would be hearing about it from hundreds of users!! I'm still reluctant to buy the BCI-6 tanks for the BCI-3e printer, but I need replacements very soon and think I might take a chance on going with the BCI-6 tanks.
Stan Glaser
Sun, 05 Jul 2009 23:04:33 +0000
Thanks everyone, very helpful info and helpful photos!! I also have a Canon S600 printer, and also always purchased Canon replacement cartridges BCI-3e. Stan, if you do try the BCI-6 series, can you post results of how BCI-6 worked in your S-600 printer?
I am reluctant to buy the BCI-6 tanks for the BCI-3e printer, too, although I am considering buying compatible ink brands for $4.95 each ink cartridge. But now I wonder if I should get ink compatible with the BCI-6 series instead of 3e for the three colors.
So I am very interested in your results.
In case others are considering compatible brands, here are two URLs of ink brands compatible with Canon BCI-3e.
I have not tried them yet, but found no complaints or other issues online. Of the samples of various colors I looked at on these sites, they are new ink cartridges, good thing since I have no interest in remanufactured ink cartridges.
These two sites are all I have searched so far in trying to find companies that sell ink compatible with BCI-3e.
Thanks again everyone for great information on this site!
Dar
-- Apex Ink & Toner/ Apex Ink and Toner, BCI-3e compatible ink for canon s-600 for $4.95 each as of today, normally $11-$12 each, no multi-packs.
They have compatible ink and compatible toner for printers and fax machines.
The ink cartridge list at this url includes Canon S-600, but also other printer model numbers:
http://search.apexinktoner.com/?page=5&catalog=yhst-97780449 . . .
-- Apex.com
apexink.com BCI-3e ink/Inkjet Cartridges – Compatible list, each $4.95, from searching their site for: BCI-3e
http://apexink.com/index.php?main_page=advanced_search_resul . . .
They have compatible ink and compatible toner for printers and fax machines, Brother Canon Pitney Bowes Xerox Other Dell Epson HP Lexmark Okidata Panasonic Samsung Sharp ink cartridges, toner cartridges, fax toner, etc.
(Posted cartridge numbers so online searches will locate this great advice, Thanks!!
BCI-3eBK Black, BCI-3eC Cyan, BCI-3eM Magenta, BCI-3eY Yellow)
Dar
Wed, 15 Jul 2009 20:56:48 +0000
I happened to notice only today that I have inadvertently been using a yellow 3e cartridge in my Canon i9900 printer, which is supposed to use Canon 6 cartridges. I must have carelessly purchased it without noticing. It seems to be working perfectly well.... the cartridges certainly look identical and obviously fit.... I don't believe 3e is pigment-based ink. Does anyone really know?
ray
Sun, 06 Sep 2009 02:36:18 +0000
I ran in to the same puzzle today and emailed Canon support about this. I have a S600 and found the cartridge pack at Costco with 2 BCI-3eBK, and BCI-6Y etc. Apparently you should not use the 6 ones. Thought I'd share what they sent me below.
Please know that the BCI-6 ink cartridges are not compatible or designed
for use with your printer. These inks are comprised of a different
chemical makeup based on your unit's print and image quality
specifications. Unfortunately, they are not interchangeable with the
BCI-3e ink tanks. Use of these ink tanks can affect the print output,
the nozzles and the unit itself. It is recommended to use the ink
cartridges that are compatible with your printer.
Uday
Tue, 29 Dec 2009 01:54:55 +0000
I have been using the 3e-c,m,y cartridges in my s800 for several years. It is cost effective for me because I have cases of canon ink but no 6's. (Which is what the s800 is supposed to use) If anyone would like to purchase some ink, just email me. I would sell it for a greatly reduced price.
m edwards
Sat, 02 Jan 2010 07:50:31 +0000
I don't think there is a huge difference in sharpness between Canon BCI-3eBK black ink cartridge and Canon BCI-6BK black ink cartridge. BCI-6PM, BCI-6PC does work with BCI-3eBK series. I've been using compatibles for my Canon S400 Series printer and haven't seen any major difference. Not only do the compatible black ink cartridges print clear text but it gives you more page yield. I use to buy genuine OEM canon inkjet cartridges before but compatible ink cartridges are a great alternative. Not only does it save you money but it is good for the environment.
Incase you guys are thinking about switching to a compatible brand, I found a company that sells compatible Canon ink cartridges. Printerinknmore.com carries Canon ink cartridges for all Canon printer models. You can easily search the part numbers that go with your Canon printers. Here is the URL: http://www.printerinknmore.com/canon-compatible-cartridges.h . . .
Thanks for all the great information
Ray
Ray Singh
Tue, 17 Aug 2010 06:08:51 +0000
I've been using 3e's & 6's in all of my canon printers for the past 15 years, BJC3000, BJC6000, S520, F30, iP3000,- I only buy new tanks to add to my supply
for my OWN ReFilling, and if I take in for service, never take in your printer
for service with out canon original tanks for that type of printer or they well
vold your warranty, if you have one?, then I do my own service outside of warranty,
Try do you own refilling it's cheaper on ink, it helps to have 5 tanks each color,
so that you don't have to refill them every week that is if you do a lot of color
printing, SAMSCLUB.com has Refill ink colors that work very well in most all canon printers. And some times you need to clean the Print Head in a Print Head Cleaner,
like From Universal Inkjet @ http://kalvins.com see this page:
http://kalvins.com/cic/product.php?product=Cartridge+and+Print+Head+Cleaner
If you need Help on this Just ASK ME! I've become very good @ doing Canon Print Heads & INK Tanks, And some times I can make old printheads alive again, but they
don't last forever, like any thing else manmade, it wheirs down.
Canon don't won't you to buy ink cheap, and they always tell you that it won't work
to keep you buying ink from them, thats how they make money!
"Does iP3000 Canon Owners Know that They Can Print on disc CD's, NOT Labels but the
disc it's self".
N. Tesla
Sun, 02 Jan 2011 06:57:33 +0000
I have canon pixma ip4000, the compatible ink suppose to be bc-6 C,M, Y, can anyone confirm if 3e-c,m, y will work on ip4000? Can I also use 3e-pm(photo magenta), pc, py or 6-pm, pc, py?
Cindy
Sun, 26 Jun 2016 12:32:23 +0400

Add Comment |

Related Links |

TrackBack


Related Content
Did your message disappear? Read the Forums FAQ.
Spam Control | * indicates required field
TrackBack only accepted from WebSite-X Suite web sites. Do not submit TrackBacks from other sites.
Send Ping | TrackBack URL | Spam Control
No TrackBacks yet. TrackBack can be used to link this thread to your weblog, or link your weblog to this thread. In addition, TrackBack can be used as a form of remote commenting. Rather than posting the comment directly on this thread, you can posts it on your own weblog. Then have your weblog sends a TrackBack ping to the TrackBack URL, so that your post would show up here.
Messages, files, and images copyright by respective owners.