Attach |
Edit |
Revisions

Related Content
MSI Wind U100: The Most Cloned Netbook
Written by Augusto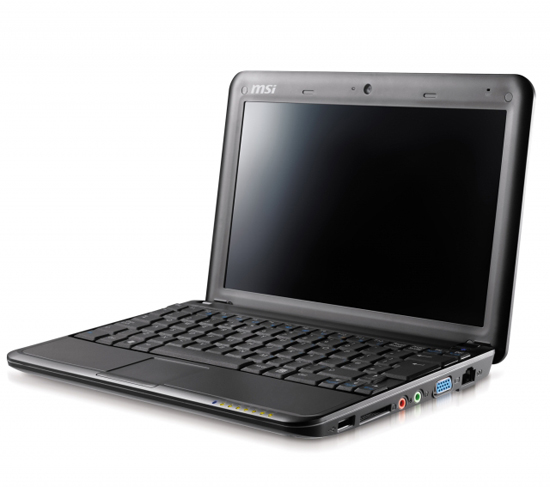 Making a reference to the phrase "Light as the Wind", MSI Micro-Star International named its first netbook MSI Wind U100. This model is one of the top selling products from MSI, and has become the most cloned netbook; there are about 12 known clones in different countries like UK, Germany, Switzerland, Denmark, Spain, Belgium, Japan, Portugal, Vietnam, South Africa, Turkey, Czech Republic, Russia and India.
The MSI Wind U100 is available with a SUSE Linux version or Windows XP Home as operative system. As the best netbooks its processor is an Intel Atom N270 that works at 1.6GHz, but as few netbooks and notebooks, its RAM which can be 512MB or 1GB is integrated to the mainboard instead of being installed in a SODIMM port. The storage is done in an 80 or 120GB hard disk drive, the display size is 10 inches and it can include a 3 or 6 cell battery. Among the general features it includes a wireless LAN, Ethernet, high definition audio, webcam and for the windows version it comes with Bluetooth. For better brightness the U100 introduced a Led Retro-illumination Technology with power saving in order to increase the battery life.
The new model U120 includes Easy face among its features, a face identification software that increases the security functions. Easy face works at the logon and also it is activated after some inactivity period that is previously defined by the user, it can store 10 different face pictures per user id. Among the hard disk drive options it includes a 160GB possibility, the battery life is longer, the webcam has a better resolution and it includes a 4 in 1 card reader.
One of the better known clones of the MSI Wind U100 is Medion Akoya mini, and the main differences are: it comes with 1GB installed in an SODIMM port, and it can be upgraded to 2GB, it is only available with Windows XP Home Edition, Bluetooth is not included and the webcam has a lower resolution. Other clones have differences like, no logo or a different design on the cover, different hard disk drive sizes and most of the time lower quality materials. The price for the clones does not change a lot from the original MSI Wind model.
The MSI Wind U100 has been so cloned because of its great design and functionality; we also have to consider that it has been in the market a little bit more than other netbooks.
Attach |
Edit |
Revisions

Related Content
Attachments
Articles | Wiki
Forums | Latest |

Library | Links | News
Search | Store | Help
166 Users Online


Fun for Photographers