Attach |
Edit |
Revisions

Related Content
Everex Cloudbook: Great Mobility Via Rocket
Written by Augusto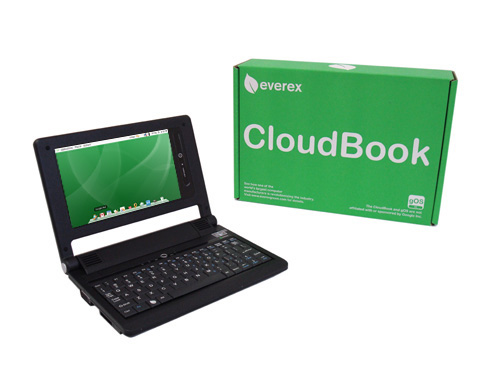 Everex is recognized by its Open Source platforms, and after a great demand on their desktops, they decided to move forward to mobile solutions, including notebooks and netbooks on their production line. It was after rewriting the operative system gOS v2 in February 2008 that Cloudbook was released. The resultant operative system is known as gOS Rocket, and it makes possible to use Gnome´s Windows Manager.
Among the Open source software included we found Open Office, Mozilla, Google and Facebook applications, Wikipedia, Blogger, Xing Movie Player, GIMP, Rythem Box and Skype. Also for those users that will prefer to use Windows XP, Everex has released Windows drivers in order to make easier to have a Cloudbook working under this platform.
This model works with a Via C7 M processor at 1.2GHz, 512MB DDR2 533MHz RAM and 30GB hard disk for storage. The traditional Cloudbook has a 7 inches screen and comes with 2 usb 2.0 ports, 1 headphone port, 1 4-1 card reader, a 0.3 Megapixels webcam, microphone port, speakers and a 4 cell battery.
A few months later, a new version with Windows XP Home Edition appeared, this model is a little more expensive, but it has 1GB in RAM, the hard drive comes with 60GB and it received the name of Cloudbook CE1201V.
The latest and best Everex netbook model is now able to connect via WiMax and WiFi as well, and because of that it received the name of Cloudbook Max, it includes a 1.6GHz processor, a hard drive with 80GB, the size of its screen is 8.9 inches, includes Bluetooth, 2 Megapixels dual webcam and its operative system is Windows Vista Home Basic.
The mouse touchpad is located in the top right part of these netbooks instead of being placed in the lower part of the keyboard as usual. The design allows the users to work even walking, since it was thought in order to allow the user to hold it with one hand while typing with the other.
This netbook is considered as one of the most comfortable models, which is a direct result of its mobility focused design, it is also one of the lightest and smallest netbooks in the market. Future models of Everex Cloudbook will include touchscreen, so then they will really be an Ultra-mobile PC; those models will also include a 1.6GHz processor, Wimax and a 80GB hard drive, as the Cloudbook Max.
Attach |
Edit |
Revisions

Related Content
Attachments