Attach |
Edit |
Revisions

Related Content
DELL mini 9/12: Fast Evolution
Written by Augusto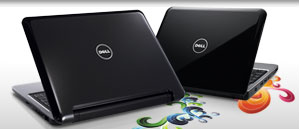 Dell entered the netbooks market until September 2008 with its model Inspiron 910 or as it is better known, DELL mini 9. Even that the exact screen size is 8.9" it is called 9 because of an approximation on this feature.
This model can be bought with a special operative system, the DELL Ubuntu Netbook Remix, which is a LINUX customized version, or with Windows XP ULCP Edition with its latest Service Pack (3). If you like you can install Mac OSX 10.5.5, it is a little difficult to configure it, but it is possible. The Ubuntu option can have a 4, 8, 16 or 32GB SSD storage and the Windows does not include the 32GB option. DELL mini 9 doesn´t includes a configuration with hard-disk storage.
Among its features we can find an Intel Atom processor that runs at 1.6GHz, 533MHz bus speed and 512KB L2 cache just as in the ACER Aspire One. The mini 9 comes with 512MB or 1GB in RAM, but it can still be upgraded to 2GB. The type of its RAM is DDR2 with a 533 MHz bus speed. It comes with a 4 cell 32Whr Li-Ion battery, 3 usb 2.0 ports, 2 small speakers, 1 microphone jack and 1 line out jack, wireless connection and in some countries the option of a webcam and Bluetooth included is available.
Even though its features are very good, DELL soon launched a new model the DELL mini 12, which main differences are: a 12" screen instead of 8.9", its RAM is only configured with 1GB, the storage handles hard-disk drives with 60 or 80GB instead of the solid-state drives in the mini 9, and the processor includes a slower option with a 1.3Ghz Intel Atom processor and the 1.6GHz option as well. As an operative system the 12 model can be configured with Windows Vista Home Basic.
The keyboard can be customized and sometimes this has caused some problems to users, since the original configuration has some differences with traditional keyboards. The function keys doesn´t exist, instead you use a Fn key and the key number you wanted to use, for example for F1 you have to press Fn key and the number 1 key. As with other kind of computers, the keyboard layout changes by country.
Dell´s mini models are built by Compal Electronic, the same company that builds MSI Wind and HP mininote. Vodafone announced that they will give a DELL mini 9 to users who subscribes to a 2 year service; this can be a great step in order to include netbooks with ISDN services.
Attach |
Edit |
Revisions

Related Content
Attachments