Attach |
Edit |
Revisions

Related Content
Acer Aspire One: An Atomic Processor
Written by Augusto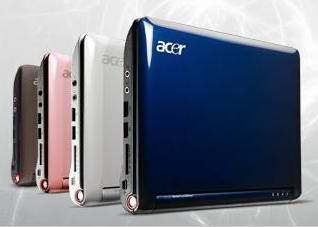 It was until July 2008 that ACER launched the Aspire One in order to be part of the Netbooks market, and we must say that it certainly has been one of the top selling models in this area. ACER Aspire One is based in an Intel Atom processor and also has placed itīs trust on an Intel Chipset, the 82801GBM. The first models were only available in white and blue, but now you can find them also in pink, black and golden brown.
As we already mentioned the heart of the ACER Aspire One is an Intel Atom, which happens to be the best option for netbooks with a 1.6GHz processing speed, 533MHz bus speed and 512KB L2 cache memory. This processor was launched in March 2008 incorporating the advanced instructions set of Intel Core 2 Duo but with a very low power consumption, between 0.6W and 2.5W and a very small size that made it just perfect for netbooks and intelligent phones.
The basic configuration comes with a 3 cell batteries, able to deliver unplugged power for 3 hours and optionally you can choose a 6 cell batteries, which can deliver around 6 and 7 hours. This life time is possible because of a very good quality on the batteries but even more important because of the very low power consumption of the netbook components, mainly the Atom processor.
In most configurations it comes with Linus Linux Lite Version, but certainly you can configure it with other versions of Linux as Ubuntu or Fedora, as well as with Windows XP. Also in most configurations it comes with 512MB DDR2 533Mhz in RAM, but it can be upgraded to 1GB, just be careful if doing so, since the access to the SODIMM expansion slot is not placed on the back part of the netbook.
Talking about the storage, it can be configured with solid-state drives or traditional hard-disks; among the solid-state options you can choose between 8GB and 16GB, and in the hard-disk options you can pick between 120GB and 160GB, this last option is the biggest storage capacity among netbooks. If you need additional storage space, you can easily add 60GB or 120GB with the help of a ZIF disk.
The size of the screen is 8.9", so itīs not ranked as one of the smallest netbooks but it is also not among the biggest ones. For future models, ACER Aspire One will include 3G connectivity and Wimax.
Because of its processing speed and storage capabilities, Acer Aspire One is a great option if you are interested in getting a netbook which is able to give you a little bit more than basic functions.
Attach |
Edit |
Revisions

Related Content
Attachments