Attach |
Edit |
Revisions

Related Content
ASUS EEE PC: An early Netbook with a brilliant Future
Written by Augusto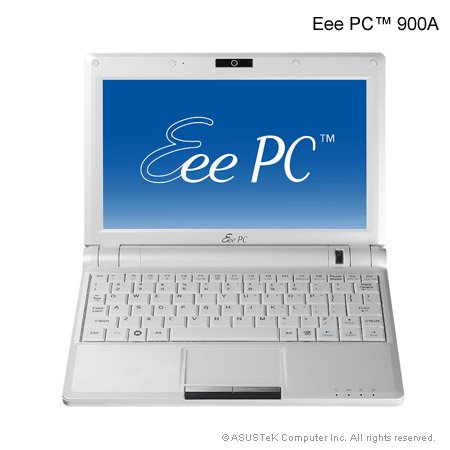 ASUS is recognized as one of the first netbook manufacturers and their first model was released in 2007, this model was the Eee PC 701, which after some modifications from its original idea, came out to the market with a 2GB solid-state disk, 256MB RAM and an Intel Celeron M processor that runs at 900Mhz. Now the different versions of Eee PC 701 are identified by their drive size, 8G, 4G, 4G surf and 2G surf. Eee is the abbreviation for the 3 E's, Easy to learn, easy to work and easy to play.
In 2008 another model was released, the Eee PC 900. The main difference is that it comes with 2 solid-state drives, the first one with a 4GB capacity as the previous model and an additional drive in the expansion slot. It was available with Windows XP and Linux OS, with the possibility of having Microsoft Works, Windows live suite and Star Suite 8 preloaded. Linux version didn't change the model name and it comes with a 20GB solid-state drive, while the Windows version received the name of Eee PC 900 Win and came out with a 12GB solid-state drive; the price for both versions is the same. The main controversy related to this model has to do with a great battery life difference in netbooks delivered in different countries; it was solved with a warranty extension and a firmware update offered with the battery replacement. Another issue in this model is that it takes a long time to drain the whole energy, this decreases the netbook´s performance, mainly because it blocks the RAM free space as if it was in use; the most effective way to drain the energy in these cases is to completely remove the battery from the netbook and keep the power switch pressed for a while.
Some months later the Eee PC 1000 was released with an Intel Atom processor that runs at 1.6GHz and a special software that is able to increase this speed to 1.7GHz. This model configured with Linux comes with 40GB divided in a solid-state drive and an extension storage drive, while the 100H model configured with Linux or Windows XP has a 80 or 160GB hard-drive. The 1000HD model is exactly the same as the 1000 but it comes with the same processor as the 701 model.
ASUS models are considered among the lightest netbooks in the market, most of them come with 3 USB 2.0 ports, an MMC/SD card reader, Ethernet port, microphone and headphones jack, wireless network and an extra free PCI express mini expansion slot. The different colors for these models are white, pearl white, black, green, pink and blue. For the future, ASUS is planning to include WiMax, touchscreen and Windows 7.
Attach |
Edit |
Revisions

Related Content
Attachments
Articles | Wiki
Forums | Latest |

Library | Links | News
Search | Store | Help
123 Users Online


Fun for Photographers