Attach |
Edit |
Revisions

Related Content
2.4Ghz Wireless Mouse Review
Have found this really inexpensive gem at the local 99 cents store. It's just a basic wireless mouse for $1.99. I've seen this mouse on Amazon for about $10 dollars before (see "Related Links" below). The store has white and black version of the mouse. For $1.99, I'm willing to give the black one a try.
The package for the mouse has no frill. It's a very basic cardboard package with no branding (see photo below). It just says "2.4Ghz Wireless Mouse". Yes, it lower-cased the "hz", which should be uppercase 'H' to be correct.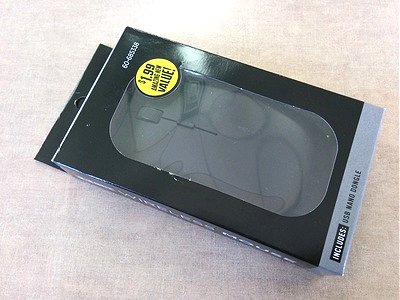 The only instruction is on the back of the box (see photo below; click on it to see full instructions), which is no big deal. It's just a simple wireless mouse, meaning that you put batteries into it, plug the dongle into your USB port, and use it. Surprisingly, the instruction is fluent English, unlike the broken English you get from inexpensive mouse online.
The content in the package is just the wireless mouse and its wireless dongle (see photo below). The surface of the mouse is simple black matte plastic, which looks cheap, but functional and practical. The mouse is relatively thin, but practically full size. So it's quite easy to carry around and not too difficult to hold.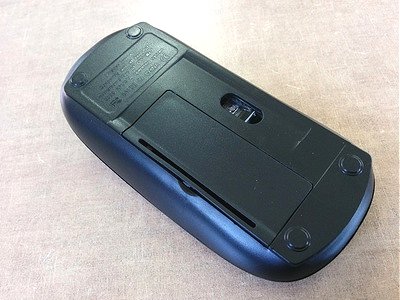 The mouse is capable of switching between 800 and 1200 DPI. You just push the button below the scroll wheel to toggle.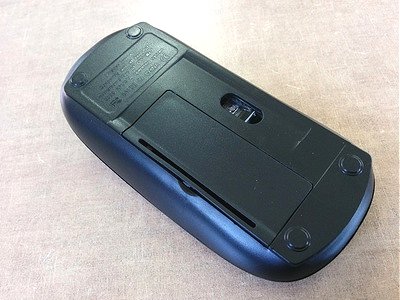 The bottom of the mouse is practically the same, with the additional battery compartment and red laser (see photo below). The USB dongle could be stored in the battery compartment. Just be sure to insert it the same way as depicted in the photo below. Otherwise, it would be difficult to remove without a tool.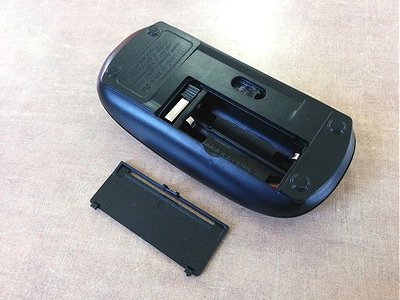 The battery compartment hold two AAA batteries. The instruction manual says the mouse works with Alkaline batteries. But I've found that the mouse works great with NiMH rechargeable batteries as well. I've tried both 650 mAh and 700 mAh NiMH batteries and they both work great. The battery compartment is somewhat crude, so inserting and removing the batteries is a little tricky.
The weight of the mouse is very light, but not so light that it feels like you aren't holding anything substantial. The weight actually feels perfect during use.
I'm using the mouse with typing up this review. So far, all of the buttons and scroll wheel works. Left and mouse buttons are pleasant to press, much like other mice I've tried. The middle button is harder to press and doesn't feel as natural. The scroll wheel is harder to use, because it's just plastic and it could slip under my finger. Scrolling also has a bit of resistance. But for two bucks, the mouse is well worth it.
Related Links
Attach |
Edit |
Revisions

Related Content
Attachments