Revision: 20220302_170843 | All Revisions
---
DeWALT 20V MAX Power Tools Battery Interface
The DeWALT 20V MAX power tool uses 20-volt lithium ion (Li-Ion) battery packs. The battery packs contains five 3.6v lithium ion power cells that provides 18v and peaks at 20v when charged.
In order to figure out how the tool operates with the battery, we ripped up a piece of paper to cover the two middle pins. We determined that the DeWALT 20V MAX power tools will not operate without either or both of the middle pin.
So if you want to interface to the DeWALT 20V MAX power tool with other battery source, you'll have to fake out the two middle pins. The question is how to fake it out?
To answer this question, we purchased the Milwaukee M18 RedLithium Battery Pack to DeWALT 20V MAX Power Tool Adapter on Amazon. Then we took it apart to see what's inside.
Inside the adapter, there is a very simple surface-mount circuit board (see photo below). It consists of three surface-mount resistors--103, 202, and 302--that ties the power and ground to the two inner pins.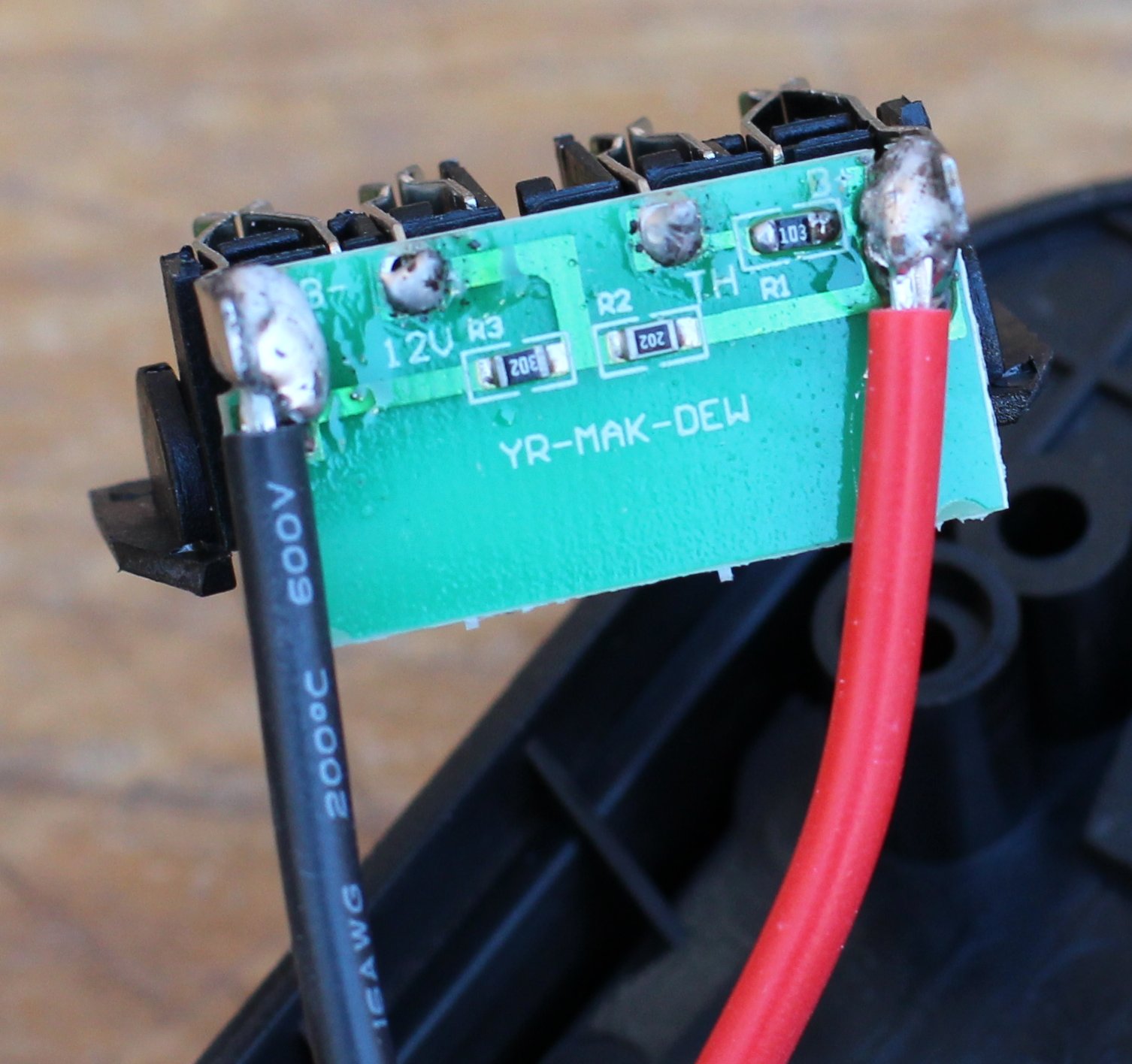 Using the Online calculator - 3 digit SMD resistor, we determine that the resistors values are as follows:
103 - 10 kilo-ohms
202 - 2 kilo-ohms
302 - 3 kilo-ohms
Note that the adapter uses 16 gauge wires (see photo above). So if you are to wire up your own battery source, you'll probably want to use 16 gauge wires as the minimum thickness.
Related Links