Add Comment |
Related Links |
TrackBack

Related Content
Sony VAIO PCG-748 Won't Turn Off After Windows Shutdown - The Solution
My Sony VAIO PCG-748 notebook has been running happily with Microsoft Windows XP for quite a few months now. It's quite peppy for a 266 MHz computer. The only gripe I have with it is that whenever I shut it down, it ends up at the following "It is now safe to turn off your computer" screen, but the computer stays on.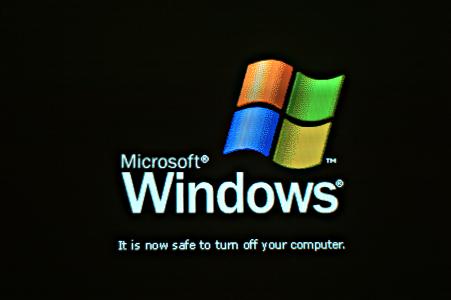 I've been quite frustrated with this problem. Today, I finally took some time to figure it out. Based on this Microsoft tech article, all I have to do is to enable APM. You can do that by going into "Control Panel" -> "Performance and Maintenance" -> "Power Options" -> "APM". Then check the box next to "Enable Advanced Power Management support."
I tried it and it works! My Sony VAIO PCG-748 automatically turns off after shutting down Windows XP. That is wonderful. I wonder why this option isn't enabled upon installation of Windows XP.

Chieh Cheng
Thu, 24 Jan 2008 02:08:30 +0000
i experienced the same problem with Windows XP on my Sony VAIO PCG-505R SuperSlim notebook. The solution presented earlier worked for this computer too.
Chieh Cheng
Wed, 14 May 2008 09:18:16 +0000
Your APM trick worked for this Sony VAIO PCG-Z505S also. I was having the same problem after upgrading it from Windows 98 to XP sp3. I spent the last 1.5 hours looking for a driver or something that might do the trick and was about to give up on it until I found this post. Thanks Chieh!
DustyBri
Fri, 25 Jul 2008 07:38:28 +0000
Open regedit.exe
Browse to this key-
[HKEY_LOCAL_MACHINE\SOFTWARE\Microsoft\Windows NT\CurrentVersion\Winlogon]
Make sure the following value is set to 1
"PowerdownAfterShutdown"="1"
link[http://www.msfn.org/board/topic/40090-why-it-is-now-safe-to- . . .]
msfn
Sat, 19 Mar 2011 12:22:48 +0000
I am going through the same problem. My Vaio laptop does shuts down(i.e; the screen does goes black) but the power button keeps on glowing and I can hear the fan inside. I can turn it off my pressing the power button for atleast 10 seconds. The only difference is I have Windows 7 and I can't find Advanced Power Management Support in my power options. Can you please help me out?
PS: the value of the registry "Power after shutdown" is already set to 1. The problem still occurs.
Vedant
Thu, 08 Mar 2012 11:35:18 +0300
I have the same problem -- running Windows 7 Professional on my brand new Sony Vaio S series. It seems as if my won't-shut-down problem started after i installed Citrix software to allow me to access my work desktop remotely. Could they be related? Thanks.
patti
Tue, 13 Mar 2012 02:12:42 +0300
Add Comment |
Related Links |
TrackBack

Related Content
Did your message disappear? Read the Forums FAQ.
TrackBack only accepted from WebSite-X Suite web sites. Do not submit TrackBacks from other sites.
Send Ping | TrackBack URL | Spam Control
Title: Shutdown through remote desktop?
Weblog: GearHack
Excerpt: I have one Windows XP computer that I use remotely through Remote Desktop. I found that there is a command-line commaand called "shutdown" that can help me turn off the computer remotely. But when I run it, it shuts down Windows XP and turns off the hard disk, but it doesn't actually turn off the co . . .
Tracked: Thu, 24 Jan 2008 02:12:57 +0000
Title: Microsoft Windows XP runs pretty fast on old computers!
Weblog: GearHack
Excerpt: For the longest time, I've refrained installing anything other than Windows 98 on my old laptop computers. I have several old laptops with Intel Pentium II MMX chips that run ~300 MHz. I've tried installing Windows 2000 on one Acer TravelMate with 350 MHz CPU, and the performance was a crawl. So I d . . .
Tracked: Thu, 24 Jan 2008 02:22:13 +0000
Spam Control | * indicates required field
Messages, files, and images copyright by respective owners.