Add Comment |
Related Links |
TrackBack

Related Content
Phosphor Keys
Although all of the first person shooters (FPS) are fairly similar in the key layout, they are all slightly different. It's hard to remember which key is for which.
Phosphor shows the keys on startup, but bringing it up in the game means you have to go though its menu system and put your player on hold.
Luckily Phosphor runs in a window. So you can have the key layout beside it. I've screen captured the layout and placed it in this thread for your reference.
Attached Image: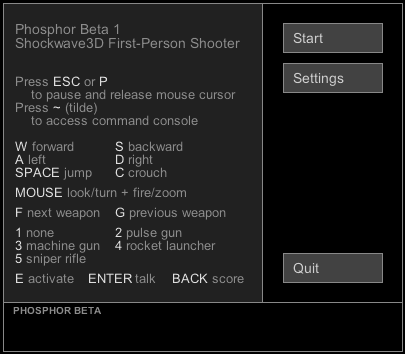 Phosphor Keys.png
Chieh Cheng
Fri, 22 Sep 2006 01:35:28 -0700
Add Comment |
Related Links |
TrackBack

Related Content
Did your message disappear? Read the Forums FAQ.
Spam Control | * indicates required field
TrackBack only accepted from WebSite-X Suite web sites. Do not submit TrackBacks from other sites.
Send Ping | TrackBack URL | Spam Control
No TrackBacks yet. TrackBack can be used to link this thread to your weblog, or link your weblog to this thread. In addition, TrackBack can be used as a form of remote commenting. Rather than posting the comment directly on this thread, you can posts it on your own weblog. Then have your weblog sends a TrackBack ping to the TrackBack URL, so that your post would show up here.
Messages, files, and images copyright by respective owners.