Add Comment |
Related Links |
TrackBack

Related Content
Crashes with ATi Radeon Xpress 200
I've recently upgraded my game machine to an Intel Pentium 4 531 CPU and a ECS EliteGroup RS400-A motherboard. The neat thing about this motherboard is that it has a built-in ATi Radeon Xpress 200 graphics card. So I've wondered how well it will work with my games.
So far, all of my older games seems to run just fine on it. Even many new games work. However, I've notice constant crashes with Battlefield 2. The crashes generally occurs when I am in a multiplayer game and soon after I join in. Not major crashes, but it does send me back to the Windows desktop.
The first thing I wondered about is whether ECS EliteGroup supplied the latest ATi graphics display driver with the motherboard. I noticed that CATALYST 5.1 is installed on my system.
Chieh Cheng
Mon, 14 Aug 2006 02:15:18 -0700
I went onto ATi's web site and quickly found that the latest version of the ATi Radeon display driver for Windows XP is version 6.7. I downloaded the driver and installed it. Now Battlefield 2 works just fine and it no longer crashes.
I'm sure the latest graphics driver will benefit my other games as well.
Chieh Cheng
Mon, 14 Aug 2006 02:20:16 -0700
Well, after playing Battlefield 2 for a few days after doing the driver update, it crashed again. Although not as frequent. I even reduced the 3D performance. But the crashes still occur.
Finally, I traced it down to one of the two memory stick modules that I installed in the system. I had bought 2 PQI 1GB PC2-5400 Single Channel DDR2 memory modules. One of them work just fine. The other one crashes constantly.
Time for a replacement. Too bad I blamed it on the ATi graphics card.
Attached Image: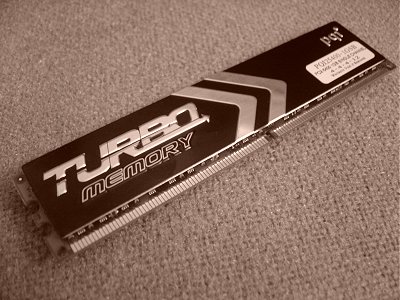 PQI 1GB PC2-5400 Single Channel DDR2.JPG
Chieh Cheng
Sun, 20 Aug 2006 02:07:48 -0700
Add Comment |
Related Links |
TrackBack

Related Content
Did your message disappear? Read the Forums FAQ.
TrackBack only accepted from WebSite-X Suite web sites. Do not submit TrackBacks from other sites.
Send Ping | TrackBack URL | Spam Control
Title: ECS RS400-A Supports 2GB DDR2 DIMM's
Weblog: GearHack
Excerpt: The ECS RS400-A motherboard supports both 184-pin DDR DIMM and 240-pin DDR2 DIMM. There are two sockets for each type. Based on the specification, it says each slot could handle up to 1 GB of RAM. But today, I put in a Kingston 2 GB DDR2 PC2-5300 667 MHz DIMM into slot 0 and the computer boots into . . .
Tracked: Sun, 16 Mar 2008 04:13:44 +0000
Spam Control | * indicates required field
Messages, files, and images copyright by respective owners.